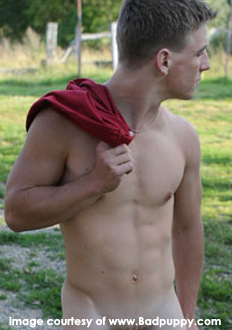 Grin and Bare It: South Florida's Gay Nudist Scene
by Jesse Monteagudo

Seth Paronick has been a nudist for most of his life. As he tells it, "I started swimming nude during men's hours in the indoor pool of my community center when I was 10. At 16, I went to my first nude beach, readily stripped off my clothes, and was hooked!" Paronick continued to frequent San Gregorio Free Beach (a nude beach south of San Francisco) for several years before "coming out," at the age of 22, as a gay nudist. "I finally worked up the nerve to park my stuff in the gay section of the beach."

Paronick's story is not unique. For Jan Szukala the magic moment came back in the mid-1970s "when I discovered a nude private beach adjacent to the Oval Beach in Saugatuck, Michigan. Guys and gals would play volleyball, run naked along the paths in the dune grasses, and relax under the trees on hot summer days." Joe Lonsway's epiphany came in the early 1980s, when he, too, discovered the pleasures of textile-free beaches. Soon after that, Lonsway "attended my first gay nudist social event in Orlando in the late 1980s and then joined Southern Exposure in Tampa in 1993."

Lonsway, Paronick and Szukala are not passive participants in the joys of clothing-optional recreation. In fact, all three men are active in South Florida's small but burgeoning gay nudist scene. Lonsway edits the Gay Naturist Informer, published by Gay Naturists International (GNI), the world's largest gay nudist organization. Paronick is on the Boards of GNI and of the WildFyre Society, South Florida's premiere gay nudist group. Szukala is Vice-President of Gold Coast Bare Skins (GCBS), this area's oldest gay nudist club, as well as a member of GNI. All are eager to promote the pleasures of the nudist lifestyle. As Paronick says, "I've always loved the feeling of air and water over all my body, the freedom and comfort of swimming without soggy fabric hanging off me, and the primal sense of connection with the natural elements that being nude outside imparts." Szukala enjoys "being outdoors, whether on a sail boat, swimming or hiking or working in my garden. Discovering how liberating nudity can be heightened my enjoyment of all that's natural, free and open." For his part, Lonsway "enjoys socializing in the nude with like-minded men because there are fewer barriers to communicating and getting to know each other. Also, I'm a bit of an exhibitionist."

According to Michael Boyd, in the guide Naked Places, "Florida should be a nude beach paradise, but it simply is not. There is a clash of cultures at play in the state. Florida's mild weather and beautiful beaches have made it popular with gay men and with international tourists form places where beach nudity is not controversial. Despite such cosmopolitan influences, Florida is still very much part of the Bible Belt. Florida has a state anti-nudity law, and there are hardly any places where authorities leave nude sunbathers alone." Though local liquor laws forbid nudity in bars and clubs, South Florida gay nudists have at their disposal an assortment of venues. Fort Lauderdale and Key West are two of the three leading centers of gay nude recreation in the United States; the third one being Palm Springs, California. According to Boyd, "while Florida does not have nearly as many nude beaches as one might expect, what the Sunshine State does have is the most gay clothing-optional resorts and guesthouses of any place in the world. These accommodations are overwhelmingly clustered in Ft. Lauderdale, with the island-city of Key West a distant second." Lonsway, Paronick and Szukala all agree that South Florida is "a hospitable place for gay nudists" (Paronick) that "offers more opportunity to live a nudist lifestyle" (Szukala).

Ground Zero for South Florida nudists, gay or otherwise, is Haulover Beach, located on A1A between Bal Harbour and Sunny Isles in north Miami-Dade County. Haulover's clothing-optional section, located at the northern tip of the park, is a tourist favorite. As noted by USA Today, "while the rest of Haulover Beach is virtually empty, the clothing optional section hosts in excess of 1 million beach-goers annually from around the world." Gay men in droves gather in the "gay section" at the northern tip of the "nude beach," where they talk, tan, eat, swim, cruise and take in the scenery. "I've been to many nude beaches in both remote and urban locations," says Paronick. "Despite the development around it, [Haulover] is one of the best in terms of beauty, space, cleanliness, accessibility and amenities." Haulover, agrees Szukala, "is a great place. The atmosphere among there makes it easy to get naked in a public open area, enjoy the sand, sun and water. People, gay or straight, are there to relax and congregate."

Outside of Haulover, South Florida's gay nudist scene centers around several gay nudist clubs. The oldest of these is the now-defunct Everglades Rawhides, which began in 1982. Szukala first heard about the Rawhides when he and his partner moved to the area, also in 1982. "I happened to see a notice about a Club called Everglades Rawhides in a gay publication and called to get details. I went to my first pool party where I met two guys that are still close friends. Being at my first social nude event was a big change from romping naked in the dunes in Michigan. Being in someone's home with a large group of men isn't the same as sunning on a nude beach or running through the dunes. Everyone was so accepting, friendly and open that I was hooked on nude pool parties after overcoming some initial reservations."

The Rawhides disbanded in the early 1990's after the deaths of some of its founders. In 1992 Szukala and a few friends got together to form Gold Coast Bare Skins (GCBS). "I'm not one to hang out in bars," Szukala says. "About the only bars that would get me out on weekends in years past offered clothing optional nights. They have all since disappeared. GCBS filled a great void after the Rawhides disbanded. There were a number of other gay nudist clubs floundering after the Rawhides disappeared. We used to hold occasional parties to keep the spirit going. Then we finally got down to serious thinking about starting a new group. Memorial Day weekend 1992 was when we launched our new club calling it Gold Coast Bare Skins (GCBS). 15 years later we still see new faces arrive eager and excited about gay social nudism."

The WildFyre Society is the largest gay men's nudist club in South Florida. In fact, WildFyre is the largest gay nudist club anywhere, outside of national or international groups like GNI. According to Paronick, a charter member, WildFyre was born in 1998, at GNI's annual summer Gathering: "A group of guys from South Florida, led by Max and Marcus" - a local couple who serve as the group's president and vice-president - "kicked off what evolved several months later into the WildFyre Society. WildFyre is a big club with hundreds of members, resulting in a wide variety of guys. Although some niche events such as game nights or workshops may draw only a few dozen who have a particular interest, the club's big bashes, most typically pool or dance parties, bring in from 150 to more than 200 attendees! With its average of two to three events per month, the WildFyre Society provides a great social outlet." WildFyre also sponsors SCORCH, a special interest group for nudists who are into leather or fetish. Last August over 100 WildFyre members attended the GNI Gathering in the Poconos, well over 1/8 of the 800 or so men who attend the week-long camp.

Though the groups' activities overlap, they each attract a slightly different demographic. According to Lonsway, "WildFyre attracts a younger crowd and has fun outings and large house parties. Gold Coast Bare Skins (GCBS) attracts a little more 'mature' crowd, which I'm part of now. They focus on medium to large house parties and an occasional sailing venture. South Florida Men Enjoying Nature (SFMEN) attracts the most 'mature' men in the area. Their parties tend to be potluck suppers and quiet pool parties." There is also a fourth group, Bear Naked South Florida, which attracts nude bears and their admirers. Though most of the men who attend nudist functions are white, there is also a small but active component of African-American, Hispanic and Asian men. According to Paronick, speaking for WildFyre, "an inordinate number of the club's members are leaders of other groups, whether social, philanthropic, religious, artistic, political, etc. It feels good to be around people that are so connected and committed to the greater community."

Openly gay nudists are but a small percentage of the gay male population. Most gay men share the majority's dislike for public nudity; or the belief that public nudity should be limited to those favored individuals who look like porn stars. Rather, nudists run the gamut from the incredibly hot to the incredibly not. Even a large percentage of the men who attend gay-and-naked parties are not nudists in the personal or political sense of the word. Some of those men go to parties to meet sexual partners; while others go there to socialize. Still, just by being at a gay nudist function these men gradually lose their inhibitions and become part of the gay nudist experience.

For more information visit the various club' Web sites: GoldCoastBareSkins.org, WildFyreSociety.org, bearnakedsouthflorida.org and naturalmales.org/sfmen (SFMEN).

Jesse Monteagudo is a South Florida-based writer and nudist. Write him at jessemonteagudo@aol.com.