Camp Sister Spirit
By Anita Lee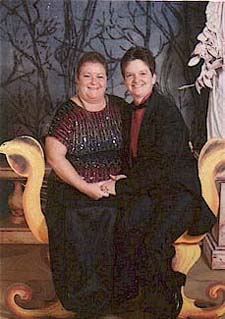 Brenda Henson is available for speaking engagements by e-mailing Speakout@iqc.org or sisterspir@aol.com . Wanda Henson is busy working in rural Mississippi as a nurse practitioner Ten years have relieved hostility toward a 120-acre camp run by lesbians in rural southeastern Mississippi and led to unpredictable friendships.

When Wanda and Brenda Henson founded Camp Sister Spirit in July 1993, the neighbors were alarmed. The partners had bought a defunct hog farm in Ovett, a town too small for a traffic light, in Jones County.

The feminist lesbians moved from the more populous and liberal Mississippi Gulf Coast to build a retreat with an ambitious mission "to eradicate hatred and differences through education and interaction with our neighbors," as their web site (campsisterspirit.com) says today.

Jones County was an unlikely, and many warned dangerous, setting for a camp whose mission was to fight what so many generations here had defended: homophobia and racism.

Trouble started as soon as neighbors got wind of the camp. The Hensons received death threats, heard ominous shots in the night and were tailed by pickup trucks on the lonesome dark highway outside the camp's locked gate. They found a dead dog draped over their mailbox.

Narrow-minded community members declared war.

Camp opponents organized a "family values" group and filed a lawsuit aimed at closing Sister Spirit, which they claimed did not conform to land-use regulations. The opponents spread malicious lies: Homosexuals are pedophiles, the Hensons will recruit our women, these lesbians are freeloading off the federal government.

The Hensons mustered national support from the gay community. They wanted to spread tolerance and offer a drug- and alcohol-free space for like-minded groups. They had no intention of recruiting anyone and made the down payment on the land with a private grant from Lesbian Natural Resources.

The fight between the Hensons and their detractors, for a time, played on the national stage.

Both sides aired their grievances on the Oprah Winfrey Show, shouting at one another. Larry King Live, 20/20 and Jerry Springer also aired shows and almost every major newspaper in the country ran articles. The news traveled overseas, too. A headline in Denmark read, "Lesbians at War."

In December 1993, the National Gay and Lesbian Task Force wrote then-Attorney General Janet Reno to ask for assistance. She sent in mediators. U.S. Representative Barney Frank held a hearing in the state capital, Jackson, to explore the situation.

The violent reaction to the camp, gay rights advocates argued, starkly illustrated the need for federal hate crimes legislation to protect homosexuals.

All the attention aided the camp. Cash contributions, donations of needed supplies, volunteer labor and other support poured in.

The embattled women built a fence of tin and wood to keep intruders off the property.

The Hensons and other caretakers paid a price for their bravery. Today, Brenda Henson suffers from post-traumatic stress disorder. The blast of a hunter's shotgun, so common in these piney woods, unnerves the women.

But they are determined women with generous spirits. They have carved out of this hostile country a unique retreat, and they've found acceptance from many of their neighbors. The Henson's daughter, Andrea (Andie) Gibbs, has moved to the camp as a caretaker.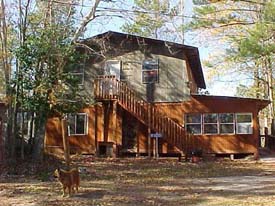 Camp Sister Spirit in Ovett, Mississippi

Today, Camp Sister Spirit includes a kitchen and dining hall, nature trails, a bunkhouse that sleeps 40, six cabins, showers, campsites with electrical hookups, a goddess grotto, caretaker's cottage, gardens and a Rainbow Library with hundreds of titles. A creek with cool, clear water, the Bogue Houma, runs through the property.

Space is available to individuals and groups for a sliding-scale donation.

A lot is going on. Last week, Los Angeles architect and designer Sonny Ward arrived with a team to work on a prototype cardboard dwelling. The environmentally friendly, low-cost building is based on his award-winning design, with construction funded by a grant from the Arcus Foundation Endowment at the University of California in Berkeley.

Brenda Henson is organizing the Mississippi LGBTQ Statewide Summit and Talent Extravaganza, where the state's LGBT community will gather in November to discuss issues concerning life in Mississippi and the South.

In April, the camp will hold its 16th Gulf Coast Womyn's Sister Camp, a special event for Andie Gibbs. Friends in Philadelphia, Pennsylvania., persuaded Terri Valenti to attend this past spring. Valenti and Gibbs fell in love. They live as committed partners in the camp caretaker's cottage.

Valenti is learning to talk "Southern." She also has discovered that southerners love to talk and don't know how to give a yes or no answer. She's learning patience.

The women at the camp have come to know and befriend many of the neighbors.

The women's resourcefulness is a big reason neighbors have come to accept them.

On the Coast, Wanda and Brenda Henson often steered battered women and others down on their luck to the right resources. Andie Gibbs brought national attention to the number of Mississippi jail hangings, prompting a federal inquiry and a documentary.

The women brought their networking skills to Ovett.

For many years, they ran a food pantry with 300 area families enrolled at its height. Brenda Henson learned one disabled woman had to slide on her backside to a car for a ride to the pantry because she had no wheelchair ramp. Henson got on the phone and found funds from the Jones County Chapter of the American Red Cross.

Then she had to find someone to build the ramp. One minister was unable to help, so she called others, along with the mayor in the elderly woman's town and a police chief. No luck.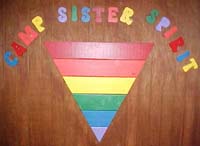 "I saw a story in the paper about a Mennonite bakery in another part of the state," Brenda recounted. "My son had rented from a Mennonite family one time and they were great folks and helped neighbors, so I called the bakery. The fellow told me they would have a meeting that night and he'd mention the need.

"The next day the minister called me and said, 'Ms. Henson, we are at your service!' The people from that church came over to Ellisville from Walthall County (several counties away) and built that ramp. Virgie was so happy to be able to get in and out with her chair. What a difference we can make in each other's lives if we make an effort to just take care of what comes into our space on a daily basis."

Camp caretakers recently hosted a 10th anniversary celebration. Visitors shared a potluck dinner. Janet Arnold, an attorney who attended from upstate with her partner, sang and played the guitar. Arnold's partner, homemaker Sue Harmon, said she had read about the camp 10 years earlier and helped raise money for it. She said, "It was great to know that something like this was in Mississippi."

The gathering was small. Sadly, the national publicity that hostilities generated in the early days has died down, meaning support also has slowed. To keep growing and spread its mission, the camp is in need of contributions and more bookings. Group retreats dwindled with summer's heat.

But fall has brought more activity, and some good news. Camp Sister Spirit recently entered Gibbs' Keiffer pears in the Jones County Fair and won a blue ribbon. "What a coup!" Gibbs e-mailed friends under the subject line "Queer Pears in the Fair."

Like her mother, Gibbs has a kind heart and likes to help people. She became especially close friends with one of the neighbors, a young mother who recently died of cancer. Gibbs and Valenti have adopted the woman's dog and started an animal shelter of sorts for strays.

A mutual friend of the woman who died attended the anniversary celebration. Belinda Beesley was one of the community residents who originally filed the lawsuit to try and close the camp. She remembers the fuss when the Hensons arrived. "People were shocked, overwhelmed," she said. They heard 50 lesbians were moving to Ovett.

Beesley was told the lesbians would to try and recruit her daughter. Beesley lives across from the camp. Seven years ago, she was pregnant and walking along the highway when a car passed, "I had a beer bottle thrown at me and I was called a damn queer," she said.

She became convinced that the women at the camp were good people because of all the kind things she heard about Gibbs from the woman who would eventually succumb to cancer. Beesley and Gibbs started exchanging friendly waves, which became roadside chats and, finally, visits.

They are friends today.

"It's all about acceptance," Beesley said during the anniversary celebration, her daughter by her side. "That's the bottom line. And out of this, I've gained some very good friends."