By Jack Nichols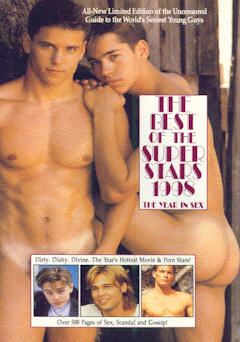 John Patrick's written output about America's stars and studs has been nothing short of prodigious. As January has arrived regularly since 1990, Patrick's eagerly awaited yearbooks—always titled The Best of the Superstars—have established him as a grand old man of taste and lust.

In each 'dirty, dishy, divine" Patrick tome, his sharp eye for male beauty—there are plenty of photos-- as well as his insatiable appetite for gossip about only the handsomest, make all drivel in People magazine seem droll by comparison. "This year's hottest movie and porn stars—over 500 pages of Sex, Scandal and Gossip" promises the cover of Patrick's 1998 edition.

What's best is that John Patrick writes with flair. Canadian poet and author Ian Young calls himself a fan of Patrick's. "His writing is clear and straight-forward," says the bard "and should be better known in the gay community."

Paul Veitch reflects: "Of course we love to hear about powerful people's sex life and penis size and sexual preference and abnormal usage of tampons and ambiguous quotes about which gender they sleep with. The Best of the Superstars is a game of spot the poof played against the backdrop of world media, and most people love it…The delightful things about the first part are numerous…Above all, you feel like John Patrick shows you his media clippings, gives you his pat summary of the news of the year, then tells you stories he's heard through his sources..The second part contains random accessible sexuality, reading about porn actors is much easier on the intellect. Much easier…But the real subject of this book is titillation. The book assumes that media power is an aphrodisiac to the reader. It also implies that the ultimate in power comes through your certainty that the sex lives of American movie actors are just as sleazy and hypocritical as you want them to be. And that's comforting."

From which stars does Patrick pull back the covers? His "fresh, filthy, FAN-tastic" favorites include (in Book I) guys like Jude Law, Rupert Everett, Jeremy Jordan, Lukas Haas, and Tony Ward—all of whom he puts in the category: "Gays on Film"

Then there's four hunks listed as "The Great Beauties" like Tom Cruise (hey, he's not gay, hear? NOT at all. Don't sue us Tom! Don't!) Keanu Reeves, Antonio Sabato,Jr. and (my favorite) Brad Pitt.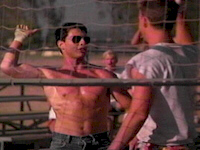 Top Gun Tom Cruise still gets a rise out of Patrick

Awaiting Greatness? Patrick points to Jared Leto and Jonathan Schaech. Muscles Going Mainstream? There's old Steve Reeves, Kervin Sorbo, Dean Cain, Brendan Fraser and Marky Mark Wahlberg.

The King and the Princes include Michael Jackson and –yikes—Prince William. There's also Jonathan Taylor Thomas, Devon Sawa and Brad Renfro. No mention, though, of that guy without a name—Prince himself.

Among the Gay for Pay Boys, Patrick dredges up gossip about Brad Davis, Mario Lopez, Antonio Banderas, Leonardo DiCaprio, Ewan McGregor and Skeet Ulrich.

1998's Sex in the Theatre's winners were Nude Boys on Stage, And Other Spectacles, and porn stars such as Ryan Idol (Patrick, in a Thanksgiving article in Encounter magazine christened Idol "Turkey of the Year") Johnny Hanson, Sonny Markham, Kevin Kramer and Hawk McAlister.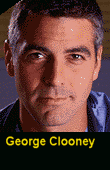 On TV, Patrick's choices for last year were George Clooney, Noah Wyle, David Charvet and Chad Allen.

Mygoid, there's even sex in music! Elton John, Pansy Division, Pet Shop Boys, David Bowie, Hanson and Joshua Bell.

If you have a hankering for artists and models, Patrick has—in the past—offered up such folk as The Brewer Twins, Tyson Beckford and Anthony Wayne.

Finally—there's Book II. The Sex Superstars, all nicely divided into the most convenient nitches: Like in Hollywood proper, there's The Gay for Pay Boys again, like Ty Fox, Adam Hart, Jeff Stryker, The Brothers Rockland.

Anybody wanna go to a foreskin feast? Patrick takes Lukas Ridgeston along with Johan Paulik, Aiden Shaw, Marcello Reeves.

And in case one's boring and two's company—you won't want to miss "hot couples" like Kurt Young and K.C. Hart, Matt Bradshaw and Todd Stevens, Derek Thomas and Logan Reed, Chad Knight and Cole Youngblood.

There are new cummers too. Last year's were Jim Buck (which rhymes with what?) and Jake Cannon (more phallic than a mere gun.)

In Book III John Patrick reflects on Legendary Sex Pigs and The Big Hustle. He also gives his expert's opinion on "The Best of the Best in Gay Porn".

In past years I've proudly contributed to short story collections-- John Patrick's early-nineties tomes— books he now lists as fiction, no less, although I've never deliberately told fibs. These confessions include a true tale about "Little Boy Lost" in Big Boys, Little Lies, confessing my meeting—on the beach— with an unhurried hillbilly. Slow Hand, yes.

In that same book I wrote about a wild party —blaming it, of course, on "My Roommate"—when we blasted next-door neighbor U.S. Senator Scoop Jackson out of his apartment with Chubby Checker records and – oh horrors— there were young men dancing together in moonlight and candlelight on The Tower's terrace. Did this really happen? Yup. And I'd like to offer this posthumous apology to the Senator. We were loud, I'll admit. Can you hear me now, Senator?

My favorite contribution to a John Patrick STARbooks Press collection, however, appeared in a book called Insatiable/ Unforgettable. I told of meeting a handsome sailor, Tom, and of how we are still friends today. This true tale is one I consider an expression of my sentimental side.

But if you, dear FAN of the superstars, are looking to dig up dirt about the rich and famous, and if you prefer to know more about horny Hollywood habits and hobbits, keep your eyes open for The Best of the Superstars, 1999. When will it be on the stands?
---
You can find out by calling or writing:
John Patrick
STARbooks Press
P.O. Box 2737
Sarasota, Florida 34230-2737
Telephone: (941) 957-1281
Fax: (941) 955-3829
---
Previous Entertainment Features from the GayToday Archive:
GLAAD's Hollywood Hotsheet
Film Review: Meet Joe Black