Interview by Jack Nichols
I first met Jesse Monteagudo in 1976 when he accompanied Mark Silber on a visit to my temporary home in Hollywood, Florida. Mark had begun to save artifacts, books and magazines that would soon become The Stonewall Library (and later the Stonewall Library and Archives) the largest GLBT archive south of New York on America's East Coast.

Jesse Monteagudo himself would later become the first President of the Archives and, in my opinion, although he's not a Ph.D., he is, in fact, Florida's foremost gay scholar.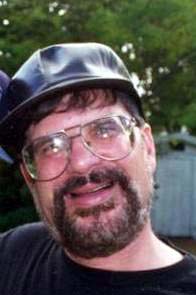 Jesse Monteagudo: Gay scholar and activist

Such a designation is a far cry from what either 9-year-old immigrant Jesse or his parents would have envisioned for him when he arrived in 1962.

The following year, in 1977, this Cuban-American's encyclopedic knowledge of lesbian and gay literature was put to good use in the Sunshine State's largest gay newspaper, TWN (The Weekly News). But Jesse was not content to be an armchair critic. He was also a rough and tumble activist of the first rank. There was hardly a South Florida GLBT group, either political or social, to which he did not contribute. He has been a builder of community.

When the Stonewall Library held its first public meeting in 1986, Jesse, played host. He invited me to speak and I recalled living in 1962 among Miami's lesbians -during the same very year Jesse had arrived from Cuba - and also told of co-founding the Mattachine Society of Florida, Inc. in 1965.

When GayToday was launched, I asked Jesse to submit his book reviews, confident that our Internet news magazine was fortunate to host such a trusted contributor. Lengthy conversations as well as my reading of his syndicated reviews convinced me not only that he knows his gay history page by page, but that he brings with him a well-balanced perspective that's unrivaled, so far as I can determine, by those critics who can only dream of being so well-informed. In particular, I like the fact that he shows genuine interest in a broad variety of issues.

Last year, the historian James T. Sears immortalized Jesse's early life in the second of his 5-volume southern history series: Rebels, Rubyfruit and Rhinestones: Queering Space in the Stonewall South (Rutgers University Press, 2001).
---
Jack Nichols: Jesse, James T. Sears' history Rebels Rubyfruit and Rhinestones tells us how you lived in Havana until you were nine, and that when Fidel Castro came to power, he tried to replace your American comic books with homegrown ones and you found out you couldn't watch I Love Lucy any more. I once saw Fidel in person - up close in a Washington, D.C. park - when he was making his pre-communist first American visit. Did you ever see him as a boy in Cuba? Do you recall much of Havana prior to immigrating to the U.S. in 1962?

Jesse Monteagudo: Well, I'm sure Castro had better things on his mind that taking away a kid's comic books. But Castro did try to erase American influence from Cuban society, which included U.S. comic books and U.S. television shows. I never saw Fidel Castro in person, though by the time I left Cuba attendance at one of his public speeches - which went on for hours - was almost mandatory. I have a short attention span so I'm glad I never did.

I remember quite a bit of Havana, especially the old Spanish city and Luyanˇ, the working-class neighborhood where I was born and lived in until I was 9. I remember the Prado and the Malec˛n, the sea wall that surrounded Havana Harbor. I also recall driving with my family to Varadero, a seaside resort a few miles east of Havana.

Jack Nichols: Originally, your given name, common in Spanish-speaking homes, was Jes˙s, but you always liked to be called Jesse. And you and your partner, Michael, have for a long time been very active members of South Florida's gay synagogue, right? What kind of satisfactions and personal rewards does this synagogue provide?

Jesse Monteagudo: The name Jes˙s was always a problem since most Americans couldn't understand why anyone would be named Jesus, so I seldom used. Many Latinos who are named Jes˙s anglicize their names to Jess or Jesse, which I did from my college years although I did not legally change my name to Jesse until I was in my mid-twenties.

Though I was raised a Roman Catholic, I was never very religious. Then in 1976 my then-lover took me to Congregation Etz Chaim, then and now South Florida's GLBT synagogue. I've long admired the Jewish people and their centuries-long struggle against bigotry and oppression. Judaism offered me a family and a community and a faith that I could believe in.

And of course I've long been attracted to Jewish men. To make a long story short, I began to study Judaism and converted to Judaism in 1976, even going through a full circumcision at 23. It was at Etz Chaim that I met my life partner, Michael Greenspan, in 1985. He is now the Synagogue's Cantorial Soloist.

Jack Nichols: You've also been active in probably a dozen or more South Florida organizations through the years. You've been the veteran of some very exciting missions in those times. But there's always been another struggle around the corner, right? Nobody rests in this evocative, explosive scene. I know you got involved in the 1977 struggle against Anita Bryant's "Save Our Children" crusade, for example. And now the damn fundamentalists are meddling again, or should I stay still? What's going on now?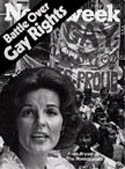 Monteagudo joined the struggle againt Anita Bryant's anti-gay crusade of 1977

Jesse Monteagudo: Well, I think every time the GLBT community achieves something we inspire some kind of backlash. Our community has done well in South Florida, especially on Miami Beach and in eastern Broward County, but so have our enemies. Though Americans for Equality-Empower Broward were able to prevent a referendum in Broward County, their Miami counterparts, SAVE Dade, were not so lucky.

Jack Nichols: You've seen enough going on over the years to have formed some vivid impressions of what is generally thought of as progress. As you look across the human horizon, is the sky half full or half empty? Has the ideal of grass roots activism really helped change South Florida's face? Or have good feelings among gay and straight neighbors been changing anyway, more through a kind of natural osmosis like TV sitcoms and such?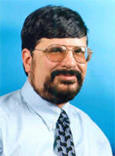 Jesse Monteagudo: I am happy to report that the condition of GLBT people in South Florida has vastly improved since 1977. This is mostly due to the fact that GLBT people are more willing to come out and be ourselves. Twenty-five years ago, the most important GLBT group in Broward County was the "Tuesday Night Group", which refused to even mention the G-word.

Today we have an openly gay majority in the Wilton Manors City Council, and an openly-gay business owner who's running against that city's openly-gay mayor. In 1977, the Miami-Dade establishment was largely against us. Today we have Miami-Dade Mayor Alex Penelas and Miami Beach Mayor David Dermer openly supporting the gay ordinance, and both the Miami Herald and South Florida Sun-Sentinel have taken editorial positions in our favor.

Jack Nichols: You've always been very supportive of the concept of sexual freedom. You early opposed plainclothes entrapments and such. You often stand up for the rights of the nudist movement. Should we beware of forgetting the importance of standing up for our sexual freedoms?

Jesse Monteagudo: We certainly should. Unfortunately, some of our community members think that if we are good boys and girls the powers that be will be nice to us. In fact, every type of sex outside of the missionary position within heterosexual marriage is against the law in the State of Florida. And to many people, two men or two women having a monogamous relationship in the privacy of their own homes are as disgusting as the people who enjoy public sex, promiscuous sex, or leather/SM sex.

Jack Nichols: Do you think South Florida has loosened up, or did that recent raid at a back room bar in Fort Lauderdale portend the return of zealous city puritans? I should think the city fathers ought to know that interfering with the zany pleasures of folks on vacation sends unwelcome signals that travel Northward creating a new breed of non-tourists. You know, like the shark attacks did.

Jesse Monteagudo: Actually, the Fort Lauderdale Police Department has been going after vice for years, egged on by the City Commission and the neighborhood associations. And these neighborhood associations are often led by lesbians or gay men who don't want the "wrong kind" of people hanging around their neighborhoods and lowering property values.

When the FLPD raided a notorious hustler bar a couple of years ago, they were accompanied by a City Commissioner who had the support of the gay business association and many gay property owners. More recently, the cops almost closed down a local donut shop where hustlers congregated. So the message is that it's OK to be gay but not to have sex in public - or in an establishment that has a liquor license.

Jesse Monteagudo: Actually, I'll give you the first copy. As originally planned, the book would be an auto-biographical history of GLBT life in South Florida, composed of previously-published articles as well as new material. I submitted a proposal to a publisher, who turned it down because he didn't think it would make money. I haven't done much with the book lately, but I am still looking for a publisher.

Another idea that crossed my mind was a collection of my gay erotic fiction. A lot of people don't know that I've written quite a bit of erotica, primarily for John Patrick's STARbooks. Unfortunately, John Patrick recently died and the future of STARbooks is uncertain.

Jack Nichols: All of us who remained activists through the years have been motivated by some inner push to keep on keep on. What do you think has happened that has motivated you, Jesse, for nearly three decades now?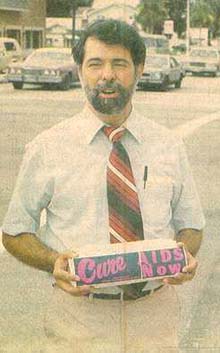 Activist Bob Kunst, here in the 1980s and now a candidate for Florida governor, worked with Monteagudo to forward the rights of gays and lesbians in the Sunshine state
Jesse Monteagudo: I was motivated in part by the example of those who started this work long before I came along, people like yourself, Frank Kameny, Barbara Gittings and Bob Kunst. And I also get bored easily. But, seriously, the GLBT community has done a lot for me, and I want to continue to do my bit for our community. Even my writing is connected to my activism.

Jack Nichols: You've lived to see South Florida's gay scene constantly changing. What kinds of changes have you celebrated most? Which do you like the least? Is it getting too crowded, for example?

Jesse Monteagudo: Well I am most happy to see high school and college kids coming out at an early age and even going to Tallahassee to lobby their legislators. And I am happy that we are now able to enjoy a variety of support groups and organizations, from the Stonewall Library to the Gay and Lesbian Community Center of South Florida.

On the other hand, I am not too happy with the prevailing belief that we can win our rights by being good boys or girls. Nor am I happy with the fact that our organizations are still controlled by affluent white men. Jorge Mursuli and Nadine Smith are great leaders and I admire them greatly but they are exceptions to the rule.

Jack Nichols: You've traveled around the country quite a bit. And you've known your share of gay tourists, I'm sure. What would you say are some of the more appealing qualities of character you've witnessed among gays?

Jesse Monteagudo: Our community's most appealing character is our nonconformity, even among those of us who like to think we are "like everyone else". Had I been straight, I would have married, raised children, and worked in a humdrum job like all the other Monteagudos.

But being gay gave me the freedom to think for myself and go into new directions. And though I do not have any children, my life has been an example to gay kids and to my nephews and niece, even those who are heterosexual. Gay men and lesbians, bisexual and transgender people, set social trends, from employment to fashion, which heterosexuals eventually adopt.

Jack Nichols: I should think that your knowledge of lesbian literature is probably unrivaled among male scholars of the genre. You've been told it by lesbian writers, haven't you?

Jesse Monteagudo: I have, though I don't follow lesbian literature as much as I used to. In fact, there is so much GLBT literature being published that no individual could keep up with it anymore. I do the best I can, though.

Jack Nichols: What have you noticed about gay book publishing lately. Have there been changes since, say, 1995?

Jesse Monteagudo: The biggest changes in gay book publishing are the decline of small GLBT presses and book stores and the rise of Internet shopping and online publishing. A part of me misses the "pop and pop" stores that also served as de facto community centers, and the thrill of browsing through the shelves and finding a long-lost classic. On the other hand, I enjoy the convenience of buying books online, from the comfort of my own home or office.

Jack Nichols: Throughout the 26 years I've known you, Jesse, you've always seemed like a kind of brother to me. It makes me feel good that there's someone so trustworthy in South Florida, holding down the fort, so to speak, someone who talks directly about things, always fair with a good sense of balance. Thanks for giving me such a feeling, for really being there.

Jesse Monteagudo: And thank you for giving me the opportunity to speak my mind.