A Holiday Book Gift Guide
Jesse Monteagudo's Book Nook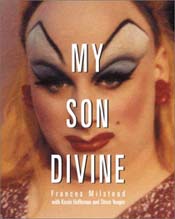 Divine (Harris Glenn Milstead; 1945-88) was the larger-than-life persona whose performances in John Waters films Multiple Maniacs, Pink Flamingos, Female Trouble and Polyester gave a new meaning to female impersonation.

"I wanted him to be the Godzilla of drag queens," said Waters, and he succeeded. Though most people remember Divine for eating dog poop in Pink Flamingos, s/he was also an accomplished actor who played both male and female roles on stage and screen, and a singer who cut such disco classics as Jungle Jezebel, Native Love, Shoot Your Shot and Kick Your Butt.

Until now the only biography of Divine was the awful Not Simply Divine, by Divine's former manager Bernard Jay. Happily, Divine's Mom France Milstead has come to the rescue with My Son Divine, written with Kevin Heffernan and Steve Yeager (Alyson, $19.95).

This wonderful biography combines Mother Milstead's fond memories of her Glenny with interviews that Heffernan and Yeager conducted with Waters, Mink Stole, Ricki Lake and other Divine friends and acquaintances.

Though Mrs. Milstead idolizes her son somewhat, and rejects some of the nastier aspects of Divine's life that were featured in Jay's book, she admits that Glenn can be a b*tch to live with. On the other hand, she insists that the real Glenn Milstead was kind and gentle, not like the outrageous diva.

Though Frances Milstead and her famous son were estranged for over a decade (1972-82, the years of Divine's greatest triumphs), the two reconciled in time for them to enjoy Divine's final film, 1988's Hairspray.

Related Stories from the GayToday Archive:

Rebels, Rubyfruit & Rhinestones

Scared Straight

Spontaneous Mind

Related Sites:
Divine

GayToday does not endorse related sites.

Sadly, Divine's expanding weight caught up with him shortly after, and he died in his sleep of heart failure. Even so, Divine/Glenn Milstead lives on in the memories of his mother, and of those of us who love his films then and now. My Son Divine features scores of never-before-published photos of the legend, both as Glenn Milstead and as Divine.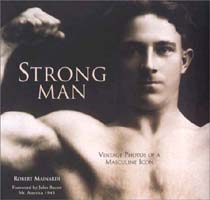 Books make great holiday gifts, especially well-illustrated books that you could leave on a coffee table. My Son Divine certainly falls in that category, as does Strongman: Vintage Photos of a Masculine Icon edited by Robert Mainardi (Council Oak, $24.95). This "photographic celebration of the evolving ideal of the male form" features rare physique photographs from the 1880's to the 1950's (no frontal nudes, though). Gay comic fans will rejoice to receive a copy of Wendel All Together (Olmstead Press). This one collects ALL of Howard Cruse's historic Wendel comic strips, which appeared in The Advocate between 1983 and 1989. Wendel, Ollie, Sterno, Deb, Tina and the rest of Cruse's beloved characters live again in this fine collection.

Readers who like a chuckle now and then will appreciate It Only Hurts When I Polka: Even More Tongue in Cheek Looks at Gay Life (Writers Club Press, $13.95), a collection of columns by syndicated humorist Kevin Isom.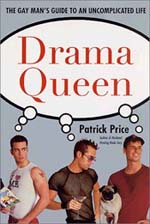 Humor and advice come together in Drama Queen: The Gay Man's Guide to an Uncomplicated Life (St. Martin's Press, $12.95) by Patrick Price, who is described here as "a gay Ann Landers minus the perm and the feuding sister".
On a more serious level, the Reverend Jim Webb dispenses timeless wisdom in Pathways to Inner Peace: Life-Saving Processes for Healing Heart-Mind-Soul (Prism Publishing, $14.95).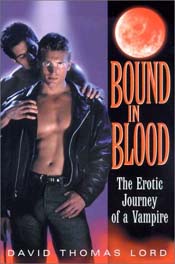 Novels make fine gifts. One of the best from 2001 is Any Kind of Luck (Kensington Books, $23.00), William Jack Sibley's comic tale of an urban gay man's return to rural Texas. 2001 gave us TWO gay vampire novels: Bound in Blood: The Erotic Journey of a Vampire by David Thomas Lord (Kensington, $14.00) and Vampire Vow by Michael Schiefelbein (Alyson, $12.95); so I suggest that you give them both as a gift.

Gay or bisexual youth will appreciate Stuart Thorogood's novels of young gay life: Outcast (Gay Men's Press, $12.95) and its sequel, Outside In (GMP, $14.95). The precocious Thorogood wrote Outcast when he was only 19 and Outside In just before his 21st birthday. Both books follow the life of Mark Holly, who comes out in a small English town, falls in love, and moves to London with his young lover Andrew.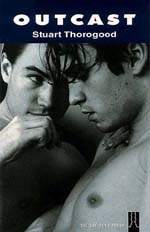 Even better is Rebel Yell: Stories by Contemporary Southern Gay Authors (Harrington Park Press, $14.95). South Florida writer Jay Quinn, author of the memoir The Mentor, put on his editor's cap to produce this fascinating and much-needed collection of gay Southern fiction. For too long gay literature has limited itself to New York and Boston, Los Angeles and San Francisco. Rebel Yell features stories by gay Southern authors like Robin Lippincott, Jameson Currier, Walter Holland and Quinn himself. Those who like Jay Quinn - and who doesn't - should also pick up his first novel, Metes and Bounds (Harrington Park Press, $17.95).

When it comes to literary gifts, you can't wrong with the classics. Before Time Could Change Them: The Complete Poems of Constantine P. Cavafy (Harcourt, $28.00), is the first new translation of Cavafy's work in over 25 years. Theoharis C. Theoharis does a fine job turning Cavafy's poems - which usually defy translation - into well-crafted English.

Meanwhile, Pagan Press has resurrected Percy Bysshe Shelley's "long-lost" translation of Plato's The Banquet ($8.00), allowing a new century of readers the opportunity to read this philosophical classic the way it was meant to be read.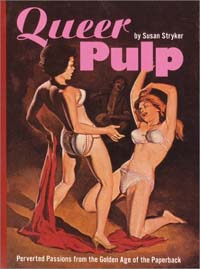 Susan Stryker reached for a more recent past when she wrote Queer Pulp: Perverted passions from the Golden Age of the Paperback (Chronicle Books, $19.99), a history of LGBT pulps featuring a plethora of delightfully campy covers.

Finally, there are two new book which will make great gifts for parents, families and friends of lesbians and gays. Out of the Closets Into Our Hearts: Celebrating Our Gay/Lesbian Family Members, edited by Laura Siegel and Nancy Lamkin Olson (Leyland Publications, $15,.95) "represents the voices of over 50 mothers, fathers, grandparents, siblings, children, nieces, nephews, and cousins".

For Spanish-speakers there's Conversaciones: Relatos de Padres y Madres de Hijas Lesbianas e Hijos Gay, Recopilación y Redacción de (collected and edited by) Mariana Romo-Carmona (Cleis Press, $14.95). Translated as Conversations: Stories by Fathers & Mothers of Lesbians and Gays, this is the first Spanish-language book by and for the families of Latina/o LesBiGay people. I think I'll give this one to my mother.

In Passing:
Some of our community more notable figures passed away recently, from various causes. John Patrick Powers, AKA "John Patrick", was author, editor and publisher of Sarasota's STARbooks line of gay erotic fiction and cultural studies. "Jackie Jackson" was in her prime one of the most famous female impersonators, and a member of the historic Jewel Box Revue. Finally, my cousin Roger Alan Weinstein was an active member of Atlanta's gay community and of Gay Spirit Visions. We will miss them all.
---

Jesse Monteagudo is a freelance writer who lives in South Florida with his domestic partner. He can be reached at jessemonteagudo@aol.com