Pen Points
Letters to GayToday
Honoring Robin Reed, a 15-Year Old Suicide
For the Mexican celebration of Dias de Los Muertos, I choose to honor Robin Reed. Robin Reed was a former student of Petaluma High School. He was born 3/15/79 and died 1/24/95. I feel it is very important that we do not forget about Robin Reed and the cause of his death. He is special to me because he represents many other Gay students around the world.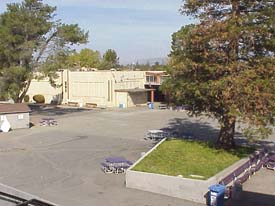 Petaluma High School

I never new or ever met Robin Reed but every time I hear the word fag and hate towards gays I remember Robin Reed and can understand why he felt pain and suffering from his peers the way he did. Throughout my life I have been taught to stand up for other people and I feel I at least owe that to Robin Reed. I, my sister and a friend of mine helped start Petaluma highs first Gay Straight Alliance. I was motivated to start this in memory of Robin Reed. If there were a GSA back when he went to school maybe he wouldn't have taken his own life.

I feel it is very important to honor Robin Reed because he committed suicide by jumping off the Golden Gate Bridge when he was only 15 years old. He did this because he felt rejected and like he didn't belong. This is why I feel it is important not to forget about him.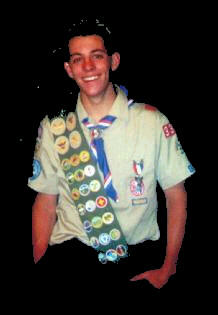 Steven Cozza is the co-president of the Petaluma High School Gay-Straight Alliance
Petaluma High School never made a memorial or a day of remembrance for him and I think that is a shame. By the end of this year it is my goal to have the GSA paint a mural in memory of Robin Reed. Robin Reed is a special person because he had the courage to be out about his sexual orientation. Despite the risk of being made fun of he came out to the school and set a good example for all the other closeted gay and lesbian kids of the school.

What I want people to remember about Robin Reed is that he was a kid just like anyone else and it is said that he had to feel different because of people not accepting him. I hope that the memory of Robin Reed and his death will remind kids not to make fun of people because of their sexual orientation but to love people for who they are. I wish that I could have one day meet Robin Reed but sadly I cannot. I will just have to wait till my next life to meet him. Hopefully by then everyone will be treated equally with love. I hope that someday it is okay to be gay and that society will someday accept gay people.

The following are the words that will be on Robin's memorial plaque:
(Photo)
Robin Reed (Date born and died)
"I took my life because I felt rejected for being gay.
Learn to love yourself and reach out to those who are different."
Petaluma H.S. Gay Straight Alliance Club -- Diversity Rocks! 2003

Please support Gay Straight Alliance Clubs in a high school in your community.

Sincerely,
Steven Cozza, Co-President, GSA, PHS
Senior, Petaluma High School
Petaluma, California
---
Oklahoma Baptist University's Babdists
In the September 23 issue of U.S. News & World Report, the magazine released it's annual rankings of "America's Best Colleges," and for the ninth consecutive year, Oklahoma Baptist University was ranked as the top comprehensive college in the state, and it was listed second among "Comprehensive Colleges-Bachelor's" for the western region in the 2003 rankings.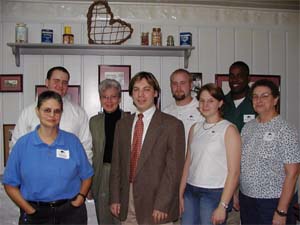 Members of OBUPride

University leadership, however, was unaware at that point that two days prior to the magazine's release date, twelve OBU alumni, spanning four decades, had gathered at a nearby restaurant to charter an organization whose mission would challenge OBU's long-standing policy against gay, lesbian, bi-sexual and transgender (GLBT ) students and their allies.

The group calls itself OBUPride, and its mission is "to provide compassion, understanding, advocacy and support to GLBTA (gay, lesbian, bisexual, trangender, and allies) who have been associated with Oklahoma Baptist University." OBUPride's main goals are to provide a safe community and connection for anyone who has been associated with OBU, either as an alumnus, employee or current student.

The organization also provides support to GLBTA who have been adversely affected by the influence of religious teachings and policies; provides truthful information and educational resources to GLBTA; provides a voice for the full inclusion and acceptance of GLBTA; works towards ending discriminatory, anti-glbt policies; and protects the anonymity of persons involved with OBUPride who are not yet comfortable with being out."

A formal letter was sent to OBU President Mark Brister on October 3, which informed the university's chief executive of OBUPride's mission and goals, and expressed the hope that he and the university's policy makers would accept OBUPride as a positive development, allowing OBU's gay, lesbian, bi-sexual, and transgender alumni, employees and current students to fully participate in the life of the University.

Brister responded to OBUPride in a letter dated October 15, stating that OBU's policy, which was developed by OBU personnel and approved by the University's board of trustees, is based upon biblical teachings and will not be changed.

OBUPride charter member, Karen Weldin, was interviewed by an Oklahoma City television station on October 9. The publicity not only caused a stir on campus, but across the state, as well. The website www.obupride.org received over 2,000 hits within a week of the interview, and the controversy ignited Baptist ministers across the state to condemn its existence from their pulpits.

The Reverend Anthony Jordan, executive director-treasurer of the Baptist General Convention of Oklahoma wrote an article concerning OBUPride, which appeared in The Baptist Messenger, a weekly newspaper that reaches Baptist homes across the state:

"There is no reason to think [OBUPride] will stop its attempts to bully us into acquiescing to its position that homosexuality is biblically acceptable. Baptists will continue to face attacks and demands to compromise, as we have in the past. We will be ridiculed and declared to be extremist, narrow-minded and uncaring. So be it."

The OBU Board of Trustees approved the anti-gay policy at a meeting in March 1985, in order to have an official means to rid the university of GLBT students who would not consent to ongoing, university-approved counseling, which fosters the theory that one's sexual orientation can be altered through prayer and behavioral changes.

The policy states:

"Admission or detection of homosexual practices or advocacy by a student will require compliance with counseling requirements or departure from the University… The University, therefore, will not tolerate homosexual activities nor the promotion of homosexuality within its jurisdiction. A person who is professedly a practicing homosexual or who is observed in homosexual activity will not be permitted to remain in the OBU community unless he or she is willing to participate in professional counseling and demonstrates a genuine effort to deal with homosexuality as inappropriate behavior or lifestyle. Such efforts include, but are not limited to, on- or off-campus counseling and/or treatment prescribed by professional authorities who are approved by the University. Subsequent violation of this University policy will result in suspension from the University."

The policy doesn't define what being "observed in homosexual activity" specifically means. It leaves the door open for gender profiling and the persecution of anyone who doesn't fit the university's preconceived notions of what is "normal."

As word about OBUPride continues to spread, more and more GLBT alumni have begun to join the organization and share their stories with other members. OBUPride members believe that it is an act of emotional and religious violence to use personal scripture interpretation to condemn gay, lesbian, bisexual, and transgender persons. The group also believes that it is an act of spiritual violence to force a gay, lesbian, bisexual, or transgender person to participate in reparative therapy, which the American Psychological Association, American Psychiatric Association, and American Medical Association have judged unproven and potentially harmful.

Membership is open to all persons in the GLBT community and their allies who have been associated with Oklahoma Baptist University as students or employees. Former students reside in all parts of the world, and are encouraged to join in the work to affect a positive change in the university's policy. There are also links on the website which can direct individuals to resources that deal with homosexuality and scripture in modern, scholarly works.

(Signed) OBUPride

For More Information:
Email: Media@OBUPride.org
Website: www.obupride.org