The Baha'i World Faith: Its Stand on Same-Sex Love
To the National Spiritual Assembly of the Baha'is of the United States
A Little Known History of a Baha'i Youth in the 1950s:
Your e-mail address was provided me through your help-desk operator. With the publication of a new history book about my early exploits --it occurred to me you'd like to know about my association with the Baha'i World Faith a half-century ago as that association is mentioned in more than one of these histories that discuss my work.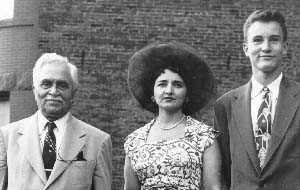 Ali Kuli Khan, his niece, Touran Araghi and Jack Nichols in Washington, D.C., 1953

I was a Baha'i Youth--circa 1953--registered as such in Washington, D.C. I was converted to the Faith then. Later, in 1957 I became, I'm afraid, an apostate, though I've always remained grateful to the Faith for its principles such as planetary and racial unity and the equality of the sexes. It was this last principle that I came to embody most, at least in my own mind. My major work, published in 1975 by Penguin Books, is called Men's Liberation: A New Definition of Masculinity.

The following two coincidences had nothing to do with my becoming a Baha'i youth, but (1) My mother, now 87, was born and brought up in Wilmette (where the first American Baha'i temple was built on Lake Michigan). (2) My own childhood home was in Chevy Chase, Maryland, where, from my kitchen window (throughout the years) I was able to see the Baha'i author, Stanwood Cobb, on his lengthy front porch on the next street, Grafton Street, doing his breathing exercises 3 times daily. Later, after I'd become a Youth in 1955, I worked at Mast Cove Camp in Eliot, Maine as a summer camp counselor for Dr. Cobb, located next door to (the Baha'i summer school) Greenacre.

To explain how I became interested in the Faith I must first say that in 1950, when I was 12, I was befriended by Washington diplomats' children from Iran and I took a very strong interest in their culture which led early to my learning Farsi.

Then, in early 1953 (when I was still 14) I dicovered Baha'i books in a library in Miami's Bayfront Park and, because of my interest in Iran, I contacted Ida Solomon, whose home served as a Baha'i meeting place in Miami. In almost no time I was attending firesides on Star Island where Dr. Ali-Kuli-Khan Nabil held forth on the teachings.

Khan, I'm sure you know, was the first translator of the Writings into English and had been an amanuensis for Abdul Baha as well as Iran's very first envoy to America. He was also the first Iranian to marry an American woman. http://gaytoday.com/garchive/people/120798pe.htm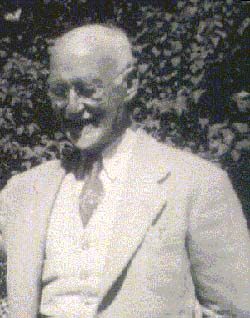 Stanwood Cobb, the Baha'i educator and author, was Valedictorian at Dartmouth, 1905

He had a Muslim niece, Touran Araghi, who loved him mightily and cared for him (he was nearly 75) and the two of them befriended me because of my intense interest in Iran. Khan also gave Sunday evening talks at his Persian art shop about Omar's Rubaiyat, which he interpreted spiritually.

Shortly thereafter, I returned to Washington as did Khan and his niece where our friendship continued to evolve --I began helping him on a daily basis--he had a kind of arthritic condition in his hands--and so I helped type his memoirs and so forth. I was fifteen. The Iranian diplomats were very shocked that I'd become a Baha'i and my association with them went on the wane.

But for the period between 1953-1956, I was, truly, a young Baha'i scholar. But, I was also discovering that I was capable of same-sex love and affection. I talked to a number of Baha'is in that benighted era, hoping that my inclinations could somehow be adjudged healthy. There seemed very little information available on same-sex love in the Writings of that time. Several people told me I could not be a Baha'i and gay.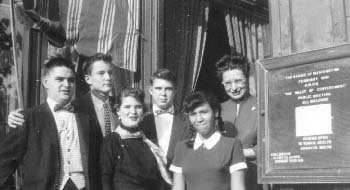 Jack Nichols (second from left) with a group of Baha'i youths in front of the Baha'i Center in Washington, D.C. 1954
The result was that I read myself out of the Faith in the Library of Congress and ended by sending the National Spiritual Assembly (whose Secretary was then Horace Holly) a resignation letter. When Shoghi Effendi died unexpectedly, I experienced additional doubts. I was once witness in Washington to Mason Remey's greeting of "pilgrims" from Peoria when he decided (out of the blue) that he was the true Guardian.

At nearly the same time, however, I began reading in the very few books then available about homosexuality. The rest is history. Today, I'm called one of the Founding Fathers of the gay and lesbian civil rights movement. My life has been extraordinarily satisfying. A few of the histories in which I'm mentioned tell of my teen-aged Baha'i contacts. The latest and one of the most important (it just was published last week) and is called Before Stonewall:Activists for Gay and Lesbian Rights in Historical Context Here's a link to it: http://www.haworthpressinc.com/ store/product.asp?sku=4646&AuthType

Therein I'm quoted telling of my early Baha'i background. The same may be said of two other histories listed on my resume linked below: Lonely Hunters (by Dr. James T . Sears) and The Other Side of Silence by John Loughery. My bio/resume, I suppose, tells the rest of the story which, by making this story available to you may help to encourage a better reception for people who are inclined to same-sex love than I was to receive in the mid-1950s. http://www.gaytoday.com/garchive/jackbio.asp

I founded the East Coast's first Council on Religion and the Homosexual in 1963-64 through the Mattachine Society of Washington (which I also co-founded) but I didn't invite Baha'i representatives to our ecumenical dialogues at American University because I feared they'd be uniformly hostile to the ideas expressed.

I do hope that today you wouldn't side with Jerry Falwell and Pat Robertson. As I've often told others, I've always very much appreciated the benign influence that the Faith had on me as a teen.

Warmest regards,
Jack Nichols, editor
www.gaytoday.com
---
From the Office of External Affairs of the National Spiritual Assembly of the Baha'is of the United States

December 4, 2002

Mr. Jack Nichols

Dear Mr. Nichols,

Thank you for your email of November 22, 2002, forwarded to the Office of External Affairs in Washington, D.C. We very much appreciate your having shared with us your experiences as a Bahá'í youth in the 1950's, in particular your recollections of the city we work in and love also, and your close relationship with Ali-Kuli Khan. This distinguished man provides a wonderful example after which any youth, Bahá'í or not, might pattern his or her life, and you were blessed to know him personally.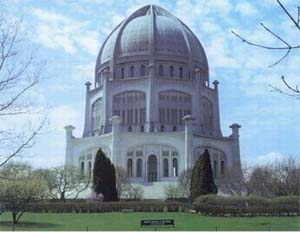 A Baha'i temple in Wilmette, Illinois

In your letter, you express your hope that the sharing of your story might help the Bahá'í community to be less hostile to people inclined to same-sex love. While, as you are aware, the Bahá'í Writings do not condone sexual relations between two people of the same sex, your friendship with Ali-Kuli Khan served to demonstrate the distinction between acceptance of this belief and hostility towards or discrimination against individuals experiencing same-sex attraction. Although the Bahá'í community does not claim that all Bahá'í individuals are free of the prejudices that plague society, the position of the Bahá'í Faith on homosexuality should not be identified with the disparaging and confrontational views espoused by some groups.

Again, we sincerely thank you for sharing your story with us, and wish you the best in your future work. Please do not hesitate to contact our office directly, if we may be of assistance to you.

Sincerely,
Office of External Affairs
National Spiritual Assembly of the Bahá'ís of the United States
---
What do the Baha'i Writings say about Same-Sex Love?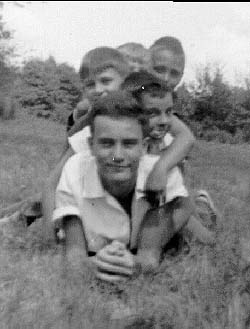 Jack Nichols (1955) was a counselor at a summer camp in Eliot, Maine owned by Stanwood Cobb, a well-known Baha'i author
Dear Baha'i Friends,

Thank you very much for your kind reply to my e-mail. In the 1950s, the Book of Aqdas hadn't been published (even in codified form) and there were then no specific references to same-sex love in the translated Baha'i Writings. Your reference--that they "do not condone sexual relations between two people of the same sex"-- has me wondering about possibly recently-published references. Would it be possible for you to e-mail the principal quote/s as well as their sources in the Writings?

Thanks very much.
Warm regards,
Jack Nichols
---
Baha'i Scriptural References to Same-Sex Love
January 9, 2003
Dear Mr. Nichols,
We received with appreciation your email of December 9, 2002, in which you inquire as to specific references in the Bahá'í Writings regarding homosexuality. While the Writings of Bahá'u'lláh make little direct reference to this issue, the Synopsis and Codification of the Laws and Ordinances of the Kitáb-i-Aqdas begun by Shoghi Effendi and published in 1973, lists homosexuality under "Prohibitions". When the fully-translated version of the Kitáb-i-Aqdas was published in 1992, note 134 explained the prohibition in relation to the following passage, paragraph 107 of the Kitáb-i-Aqdas: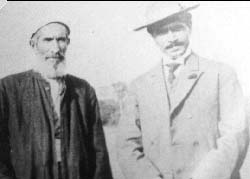 Ali Kuli Khan (right) with Mirza Abu'l Fazl, one of the foremost disciples of the founder of the Baha'i World Faith. 1900

"It is forbidden you to wed your fathers' wives. We shrink, for very shame, from treating of the subject of boys. Fear ye the Merciful, O peoples of the world! Commit not that which is forbidden you in Our Holy Tablet, and be not of those who rove distractedly in the wilderness of their desires."

From the Notes:

"134. the subject of boys 107

"The word translated here as 'boys' has, in this context, in the Arabic original, the implication of pederasty. Shoghi Effendi has interpreted this reference as a prohibition on all homosexual relations.

"The Bahá'í teachings on sexual morality center on marriage and the family as the bedrock of the whole structure of human society and are designed to protect and strengthen that divine institution. Bahá'í law thus restricts permissible sexual intercourse to that between a man and the woman to whom he is married.

"In a letter written on behalf of Shoghi Effendi it is stated:

'No matter how devoted and fine the love may be between people of the same sex, to let it find expression in sexual acts is wrong. To say that it is ideal is no excuse. Immorality of every sort is really forbidden by Bahá'u'lláh, and homosexual relationships He looks upon as such, besides being against nature. To be afflicted this way is a great burden to a conscientious soul. But through the advice and help of doctors, through a strong and determined effort, and through prayer, a soul can overcome this handicap.' "

The authority of the Guardian to make such an interpretation is conferred by 'Abdu'l-Bahá in His Will and Testament:

"The sacred and youthful branch, the guardian of the Cause of God as well as the Universal House of Justice, to be universally elected and established, are both under the care and protection of the Abhá Beauty, under the shelter and unerring guidance of His Holiness, the Exalted One (may my life be offered up before them both). Whatsoever they decide is of God. Whoso obeyeth him not, neither obeyeth them, hath not obeyed God."

The following extracts from letters of the Universal House of Justice further clarify the Bahá'í view of homosexuality:

"While recognizing the Divine Origin and force of the sex impulse in man, religion teaches that it must be controlled, and Bahá'u'lláh's Law confines its expression to the marriage relationship. The unmarried homosexual is therefore in the same position as anyone else who does not marry. The Law of God requires them to practise chastity." - January 9, 1977

As mentioned in our letter of December 4, 2002, the standards of behavior towards which Bahá'ís must struggle in no way imply that individuals may judge the actions of others. On the specific issue of homosexuality, the Universal House of Justice was quite clear in a 1995 letter: "To regard homosexuals with prejudice and disdain would be entirely against the spirit of Bahá'í Teachings."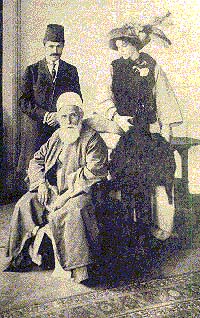 Ali Kuli Khan and his American wife, Florence (1912) with one of the three major fountainheads of the Baha'i religion, Abdul Baha

We hope that this information is helpful to you, and thank you again for contacting our office. Please feel free to write again, should you have further questions.

Sincerely,
Office of External Affairs
National Spiritual Assembly of the Bahá'ís of the United States