Jack Nichols, editor of Gay Today, dies at age 67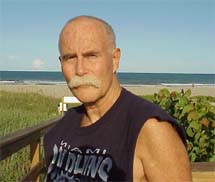 Jack edited Gay Today from 1997 through 2004 and is just one achievement in a life dedicated to making the world a better place for gays and lesbians. A courageous man with a courageous story. The following pages are a tribute to the man who fought for us, even though we may not have known it. If you have a story you would like to share with us and our readers, please e-mail us.
A great voice is now silent. Remember.
Jack Nichols
March 16, 1938 - May 2, 2005
I consider it an honor and a priveledge to be able to call Jack Nichols my friend. Personally, I owe Jack a lot for what he did for Gay Today and Badpuppy; but, one thing I will never forget is what Jack did for every single Gay American. He gave us a voice. I love you Jack and your presence will greatly be missed. Have a wonderful journey.
William G. Pinyon, President & C.E.O.
Memories Of Jack
Jack Nichols - A Tribute by William Pinyon
A letter from Bob Kunst by Bob Kunst
Memories of Jack by Jesse Monteagudo