Canada's Pink Triangle Press, which publishes the Xtra! chain of gay newspapers in Toronto, Ottawa and Vancouver, had its YouTube account suspended for two weeks recently for posting "inappropriate" videos.
The videos featured footage from the Church Street Fetish Fair and the Northbound Leather Fetish Party.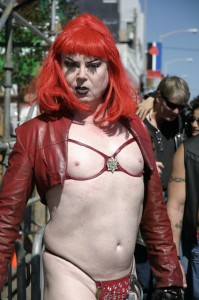 Notices sent by YouTube reportedly cited "nudity" and "sexually gratuitous" imagery. Xtra! Toronto said "YouTube did not respond to multiple requests for comment" on the matter.
"YouTube is clearly more strict when it comes to fetish or BDSM videos," said Xtra.ca Managing Editor Brent Creelman. "The Church Street Fetish Fair was a public event and our video was a fun, campy news report."
Another PTP editor, Matt Thomas, said there seemed to be no way to appeal the suspension.
"They do not provide a means to appeal. I can contact no one," he said.
By Rex Wockner