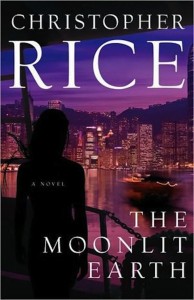 The Moonlit Earth, by Christopher Rice. Scribner, 368 pages, $25 hardcover.
Terrorist bombings, family secrets, sibling conflicts, corruptive wealth, maze-like conspiracies, a closeted 18-year-old Muslim scion and a handsome homo flight attendant: Rice stuffs a whole lot of plot into his fifth novel. The story is somewhat dense, with oodles of expository asides, but nonetheless zips along at a page-turner pace. When West Hollywood party-boy flight attendant Cameron is caught on video fleeing a Hong Kong hotel bombing, accompanied by a shady Middle Eastern character, his slightly estranged but still loyal sister, Megan, sets out to prove her brother is no terrorist. Despite Cameronâ??s proclivities â?? and his interaction with a young, hedonistic Saudi Prince, Aabid, who tries to buy Cameronâ??s affections with an envelope of cash â?? thereâ??s less queer content than in Riceâ??s previous books. Instead, in fine thriller fashion, the novel tackles the murky, menacing world of great wealth, overarching egos, the politics of oil, the strictures of religion and the riveting intersection of greed and power. Itâ??s a mega-tale balanced nicely by the evolving relationship between a sister and a brother who, growing up, learned to depend on each other.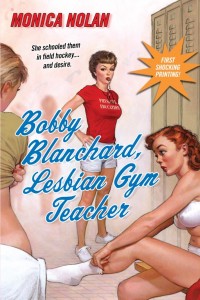 Bobby Blanchard, Lesbian Gym Teacher, by Monica Nolan. Kensington Books, 304 pages, $15 paper.
Three, three, three genres in one. Itâ??s a murder mystery â?? who killed the elderly professorial companion of Metamora Academyâ??s befuddled but benign headmistress? Itâ??s a romance â?? with which of the sometimes sultry, sometimes standoffish teachers will fledgling gym teacher Bobby Blanchard find the sexual and emotional connection she longs for, after sheâ??s dumped by her closeted, class-conscious girlfriend? And, as with Nolanâ??s hilariously saucy debut novel, Lois Lenz, Lesbian Secretary, itâ??s a campy homage to the classic lesbian pulps of Paula Christian, Ann Bannon and Vin Packer â?? set at an elite boarding school for often snotty girls, where newcomer Bobby decides to revive the schoolâ??s once-formidable field hockey team. Looming over the action is the schoolâ??s historic bell tower, exuding mystery and menace, from which the former Math Mistress plunged to her messy death. Nolanâ??s pell-mell pastiche of varied genres â?? add outrageous humor to the mystery, romance and pulpy homage â?? is great fun, both on the playing field and off.
Footnotes
The Publishing Triangle, an organization of queer book professionals, has honored Eleanor Roosevelt biographer Blanche Wiesen Cook with the Bill Whitehead Award for Lifetime Achievement (named after a legendary gay editor of the 1970s and 1980s). The third volume of Cookâ??s epic biography is forthcoming; volume one was published in 1992, and volume two, in 1999. At its annual awards ceremony, April 29 in New York, the Triangle also honored veteran book publicist Michele Karlsberg with its annual Leadership Award, created in 2002 to recognize contributions to lesbian and gay literature by those who are not primarily writers. Before turning to publicity more than 20 years ago, Karlsberg was co-founder, with the late writer and editor Stan Leventhal, of Amethyst Press, described by Sarah Schulman as having published â??the most interesting collection of gay male writing in the history of our literature.â? As a publicist, Karlsberg has worked with Kate Clinton, Bob Morris, Jewelle Gomez, Felice Picano, Ellen Hart, and Shawn Stewart Ruff, as well as the two most recent winners of the Publishing Triangleâ??s Bill Whitehead Award, Katherine V. Forrest and Martin Duberman; she also produced the first Olivia Book Expo on the Holland Americas line, and is the co-editor of the anthologies To Be Continued and To Be Continued Take Two.
by Richard Labonte
Richard Labonte has been reading, editing, selling, and writing about queer literature since the mid-â??70s. He can be reached in care of this publication or at BookMarks@qsyndicate.com.