Austrian Post will issue a gay stamp June 25 in conjunction with Vienna's 15th Rainbow Parade.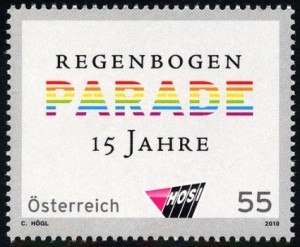 "To our knowledge this is the first time in the world that a postal authority is issuing a special stamp on a gay/lesbian occasion," said Jona Solomon, co-president of HOSI Wien, or Homosexual Initiative Vienna.
Designed by gay activist and graphic designer Christian Högl, the 55-euro-cent stamp will go on sale June 25 and become valid for use on July 3. The amount is the cost to send a standard letter or postcard within Austria.
Austrian Post also will place a mobile post office in downtown's Schwarzenbergplatz on July 3 to service pride goers at the parade endpoint.
"Austrian Post is again writing philatelic history with this stamp," said HOSI Secretary General Kurt Krickler. "We hope that many postal authorities in the world will follow and dedicate stamps to LGBT themes."
By Rex Wockner