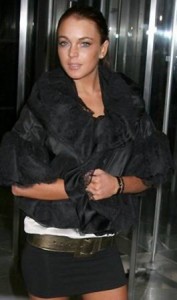 Banderas, Lohan sign on for skin flicks
Itâ??s reunion time for Antonio Banderas and Lindsay Lohan. No, theyâ??re not reuniting with each other. They were never united in the first place. But Banderas is set to re-team, after 20 years, with Pedro Almodovar, the director who helped make him a star with the international arthouse hit Tie Me Up, Tie Me Down. Heâ??ll star in La Piel que Habito (translation: â??The Skin I Live Inâ?), a â??terror film without screamsâ? about a plastic surgeon exacting revenge on his daughterâ??s rapist. The film shoots this summer in Spain and will not feature Almodovar muse Penelope Cruz. Almodovar promises that it will be harsher than anything heâ??s ever presented his audience, though he stops short of calling it a horror film. Meanwhile Lohan is merely reuniting with the idea of actual acting work â?? and prepping for a different kind of skin-themed role â?? by starring in Inferno, an indie drama about the life of the late, legendary 1970s porn star Linda Lovelace and her rise to fame in the notorious Deep Throat. Romeo is always rooting for Lindsay, but donâ??t call it a comeback until every last frame is in the can.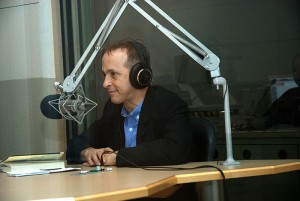 A David Sedaris movie? Finally?
Devoted fans of writer David Sedaris saw their movie adaptation hopes dashed when the planned 2002 film based on stories from his book Me Talk Pretty One Day fell apart in the development stage. And then they waited as nothing else came down the pipeline. But now a second project is moving forward based on the story â??C.O.Gâ? from Sedarisâ??s story collection Naked. The story involves a young Sedaris getting involved with a stonecutter who calls himself a â??Child of God,â? with the men teaming up to sell stone clocks cut into the shape of Oregon at craft fairs. Yes, odd. But thatâ??s how you know itâ??s from David Sedaris. Filmmaker Kyle Patrick Alvarez, who won the Someone To Watch award at the 2010 Independent Spirit Awards for his film Easier With Practice, is at work right now adapting the story into a screenplay. Now everybody cross your fingers.
Live Sex, Jesus and a Steel Panther on Comedy Centralâ??s slate
Talk about biting off more than you can chew. Cable channel Comedy Central recently announced 22 upcoming projects in its development schedule, including a show about Jesus. The most controversial before it even comes to life is, of course, JC, which will depict a disgruntled, rebellious Christ who just wants to live a normal life in New York, outside of his fatherâ??s influence (and if he moves to Brooklyn heâ??ll have a lot of gay hipster neighbors, which should provide plenty of laughs). Live Sex Chat seeks to update the Dr. Ruth format of the â??80s, but with more intentional comedy not involving a sweet little old lady saying â??penisâ? every few moments; and Brian Posehn, who plays one of half of the gay stoner bear couple on The Sarah Silverman Program, will get to indulge his metalhead side with Steel Panther, a mock reality show about a vintage hair-metal band named, of course, Steel Panther. And whatâ??s gay about that? Only everything.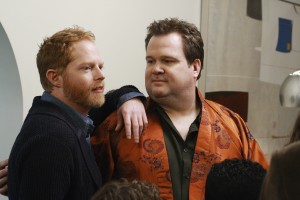 Facebook says let Modern Family gays kiss
The gay couple on Modern Family are finally going to kiss each other! OK, that might be a premature announcement. But itâ??ll probably happen. Because if it can work for Betty Whiteâ??s SNL hosting prospects, it can work on a hit sitcom. By â??itâ? we mean the public pressure put on creative decision makers at major television programs to bend to the publicâ??s will. And itâ??s all thanks to some rabble rousers with a Facebook page. This time it involves the hip ABC sitcomâ??s gay couple who, as usual, donâ??t smooch. Every other romantically paired couple on the show is allowed the quick, affectionate, everyday thoughtless kiss, the kind for â??Hello,â? â??Goodbye,â? â??Have a good day at workâ? or â??Iâ??m sorry letâ??s make up.â? The gay characters, however, get to hug it out because, as every queer TV viewer is taught from birth, their mere existence is controversial. So why not go join the growing throng of annoyed couch potatoes and show ABC that all this Will & Grace-style foot-dragging is a relic of the 1990s? Itâ??ll require the lifting of a very few fingers.
Romeo San Vicente thinks everyone should kiss everyone. He can be reached care of this publication or at DeepInsideHollywood@qsyndicate.com.