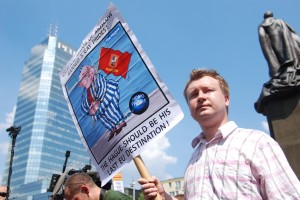 A libel suit filed by Moscow Pride against Mayor Yuri Luzhkov over his
having called gays "faggots" ("gomiki") was dismissed by the Moscow City
Court on July 2. It previously had been rejected by the Tverskoi District
Court.
Pride leader Nikolai Alekseev said the group will appeal to the European
Court of Human Rights.
The group had wanted Luzhkov to apologize for using the slur and pay 1
kopeck in damages (about three-hundredths of a cent).
The mayor made the remark on television in June 2009 while vowing that he
would never authorize a gay parade in the city.
"Public morality does not accept those faggots," Luzhkov reportedly said.
"Other people will simply kill them."
Luzhkov has banned the pride parade for five years and has sent riot
police to aggressively arrest small groups of activists who have defied
the bans.
He also has called gay pride parades "satanic" and, reportedly, "weapons
of mass destruction."
LGBT people managed to stage two small, brief pride marches in Moscow this
year despite another ban.
For the main event, organizers misled hundreds of riot police and
undercover officers to a fake location.
"The march was relatively short, around five minutes, but we managed to
fool the police and the anti-pride protesters," Alekseev said.
British gay activist Peter Tatchell, who joined the march, said: "Pride
organizers fed the police a steady stream of false information, via blogs
and websites, concerning the location of the parade. They suggested that
it would take place outside the EU (European Union) Commission's offices.
As a result, the police put the whole area in total lockdown."
Earlier in the day, another group of some 25 activists staged an
unannounced gay march for 10 minutes on a downtown pedestrian street. It
ended when police blocked their path and the marchers ran away.
Moscow Pride organizers have sued over Luzhkov's bans in a series of cases
that have been merged at the European Court of Human Rights. A ruling is
expected within months.
By Rex Wockner