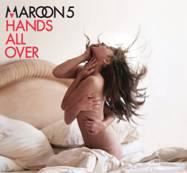 GRAMMY winning recording artist Maroon 5 is back with their highly anticipated third studio album, Hands All Over (A&M/Octone), set for release on September 21st. Produced by rock studio legend Robert John "Mutt" Lange (AC/DC, Def Leppard, The Cars), Hands All Over is a killer hybrid of rock, pop, funk and R&B.
Maroon 5 began writing the songs that appear on Hands All Over after winding down from a world tour in support of their 2007 studio release It Wonâ??t Be Soon Before Long. Several months later, the band received a phone call from Lange, who had heard that the band were beginning to write a new album, and expressed an interest in producing it.
â??We didnâ??t even talk to anyone else,â? Adam Levine, Maroon 5â??s frontman says. â??Mutt is undeniably one of the most successful producers whoâ??s ever lived.â?
Jesse Carmichael, the bandâ??s keyboardist, added, â??Mutt really helped us play to the best of our ability. And it drove us to be bigger and better than ever.â?
The result is Hands All Over, a monumental record chock full of buoyant, unforgettable melodies. Recorded at Langeâ??s Switzerland studio, the members of Maroon 5 locked themselves in the mountains to patiently craft their latest effort. Starting with the hard-rocking title track, the albumâ??s 15 tracks take several intoxicating twists and turns including such compositions as â??Out of Goodbyes,â? a stunning country ballad infused with musical and vocal contributions from Nashville chart-toppers Lady Antebellum. Long-time fans will get a thrill out of â??Misery,â? with its funky guitars and high-stepping melody, as well as the propulsive â??Stutter,â? melody rich â??Give A Little Moreâ? and â??Donâ??t Know Much About That,â? which professes a classic soulful vibe.
www.maroon5.com
Capturing their first of 3 GRAMMY Awards as â??Best New Artistâ? of 2005 and going on to sell more than fifteen million albums worldwide, Maroon 5 won over fans and critics alike with the hybrid rock/R&B sound they introduced on their debut album Songs About Jane. They followed up with the double platinum album, It Wonâ??t be Soon Before Long, that included hits like â??Makes Me Wonderâ? and â??If I Never See your Face Again.â? The bandâ??s releases have gone gold and platinum in over 35 countries around the world.