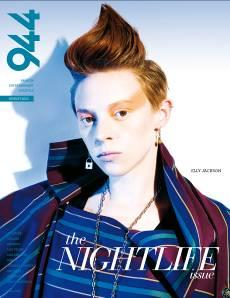 Synth-pop sensation La Rouxâ??s second single, â??In For The Killâ? is set to hit radio airwaves in the coming weeks. The track will be available as a digital remix EP set to hit on September 14 via Cherrytree/Interscope with a special edition vinyl to follow in late September. The â??In For The Kill (Skreamâ??s Letâ??s Get Ravey remix)â? was recently featured on Entourage (8/7) and created such a frenzy with the showâ??s fans that the single spiked 600%+ that week. The stateside video for the track will shoot in the coming weeks and is set to be directed by LEGS (Florence and the Machineâ??s â??Dog Days Are Overâ?, Goldfrappâ??s â??Aliveâ?, etc).
La Roux has caught the attention of all the right ears with recent effervescent performances on Ellen, Good Morning America and most recently, The View and the band will appease and then rile up their legions of new fans with a national fall headlining tour. Set to kick off November 1st in Fort Lauderdale at the Culture Room, the tour will take La Roux across the country before wrapping in New York at Terminal 5 on November 17th. Tickets are available now for select dates.
What began in Londonâ??s burgeoning underground warehouse scene has since landed 22-year-old Elly Jackson, co-producer co-songwriter co-hort Ben Langmaid and their glittering self titled debut a long and impressive list of accolades and millions of fans internationally. Sizzling current single â??Bulletproofâ? has become an instant summer hit climbing the Top 40 charts and making itself at home in the Top 10 with the track selling well over 1.5 million copies on our shores already.
La Rouxâ??s Fall Tour Dates:
11/1 Ft. Lauderdale, FL â?? Culture Room
11/2 Orlando, FL â?? Hard Rock
11/4 Tampa, FL â?? Ritz
11/5 Atlanta, GA – Tabernacle
11/7 Baltimore, MD â?? Rams Head Live
11/9 Philadelphia, PA – Trocadero
11/10 Washington, DC 0 9:30 Club
11/12 Providence, RI â?? Lupos
11/13 Hartford, Conn â?? Webster
11/15 Boston, MA â?? House Of Blues
11/17 New York, NY â?? Terminal 5
Digital Remix EP Tracklist:
In For The Kill (Skreamâ??s Letâ??s Get Ravey remix)
In For The Kill La Roux (Tim Bran remix)
In For The Kill (Dangerâ??s Ocean remix)
In For The Kill (Skrillex remix)
Raves for La Roux:
â??Elly Jackson is the perfectâ?¦ pop star of the momentâ? – **** Rolling Stone
â??â?¦a top 10 smash.â? â?? Entertainment Weekly
â??A perfect pop hook backed by bubbly eight-bit bloopsâ? Spin
â??La Roux has scored a slew of devastatingly addictive hits (including the disco-inflected â??Bulletproofâ?, an â??I Will Surviveâ? for the Facebook generation.)â? Elle
www.larouxonline.com
www.myspace.com/larouxuk
www.cherrytreerecords.com