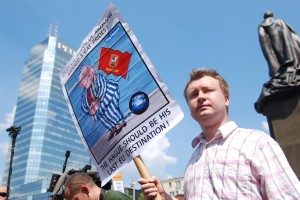 Moscow Pride founder and leader Nikolai Alekseev has reported that he was
abducted by government agents of some sort at Moscow's Domodedovo Airport
Sept. 15 and held for more than two days.
He was seized after passing through passport control and taken to a room
by security officials and an airline worker, he said. There, his luggage,
documents and computer were examined for more than two hours.
Alekseev then was turned over to what he called "hulking men in civilian
clothes, with faces not disfigured by intellect," who removed him from the
airport via nonpublic passageways and drove him to a police facility two
hours away, where he was further searched. In a moment when he was left
alone, Alekseev used his iPad to discover where he was.
"I got my iPad and with two taps learned my location," he said. "If I did
not have this device, I would have never found out where I was the first
day. Thanks, Apple! The location showed up as the city of Kashira. I began
frantically finger-zooming the map to find the exact address, but there
was no 3G Internet there and the EDGE network loads maps very slowly. …
Afraid that they would catch me, I disconnected the iPad completely. Then
they tried to get into it, but couldn't, because it was
password-protected."
Alekseev said he was mocked and insulted, called "faggot" and "pederast,"
probably drugged via a glass of water, and eventually presented with a
paper to sign, which said that an agreement had been reached to drop his
lawsuits at the European Court of Human Rights over Moscow Mayor Yuri
Luzhkov's bans of gay pride parades. He didn't sign it, "despite
persistent 'advice' not to enter into conflict with the authorities."
The second night, Alekseev was moved to another police facility in the
city of Tula, farther south of Moscow, he said. Around the same time,
someone used his cell phone to text false information to the media —
saying that Alekseev was in Belarus, had sought political asylum there,
and was dropping his European court cases.
When this was reported in the media, activists and journalists around the
world who have regular contact with Alekseev strongly suspected that the
information had not come from Alekseev or that he was no longer in control
of his own mind.
Alekseev was released on the outskirts of Tula early the morning of Sept.
18, made his way to the city center, and took a bus to Moscow, he said.
"I intend to sue the Domodedovo Airport and its aviation-security
services, which violated international law and forced me back under
Russian jurisdiction," Alekseev said.
"In addition, my ticket was bought in Switzerland. Thus, the contract
between Swiss Air Lines and the passenger falls under Swiss law. In this
regard, I will seek a trial in Switzerland. I will also demand a complete
investigation into the basis of crimes against me in the form of illegal
deprivation of freedom and kidnapping."
(Though he speaks English fluently, Alekseev's primary lengthy account of
his ordeal was written in Russian on his LiveJournal blog, and the
quotations here have been translated. On Facebook, Alekseev said he would
"get mad" if he tried to translate it.)
In a five-year battle with Luzhkov, who has banned the gay pride march
each year and sent police to arrest small groups of activists who defied
the bans, Alekseev, a lawyer, has filed a series of lawsuits at the
European Court of Human Rights. The court has merged the cases and is
expected to deal with them this year.
"It appears the Russian authorities realize their inevitable humiliating
defeat at the European Court of Human Rights and employ such desperate
methods as intimidation, threats and abduction to prevent it," said the
European Region of the International Lesbian, Gay, Bisexual, Trans and
Intersex Association, or ILGA-Europe.
By Rex Wockner