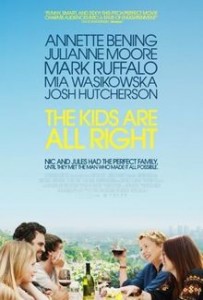 NEW YORK (Reuters) – It isn't stirring the same buzz as that 'gay cowboy film', but Oscar contender "The Kids Are All Right" may give portrayals of lesbians in Hollywood a positive boost the way "Brokeback Mountain" shattered previous depictions of gay men.
"Kids," is the most prominent American film yet to hit cinemas centered on the lives of a lesbian couple, powered by two big stars, Annette Bening and Julianne Moore, a clever script and classy directing, critics agree.
In "Kids," audiences encounter a funny, touching tale of a long-term lesbian couple whose children locate their sperm donor father. Mark Ruffalo plays the dad who rattles the lives of the couple portrayed by Moore and Bening.
Yet, the issues faced by the parents and their two kids could occur in any modern American family, and audiences seem to understand that. "Kids" has churned up $24 million at box offices, which is serious money for an independent film that cost only $4 million to make.
Add to that the exposure of likely Oscar nominations — Bening for best actress and a possible spot among the 10 best film nominees — and "Kids" should broaden its influence.
"It's a real step forward for Hollywood," said Deadline Hollywood columnist Pete Hammond. "(It) is the most mainstream I have seen in the genre and doesn't wear its politics on its sleeve." Like others, Hammond noted that in more than 100 years of movie history, lesbians have existed mostly on the fringe.
Lesbian subplots or sex scenes have been included in Hollywood films for years. There was 1961's "The Children's Hour" with Shirley MacLaine and Audrey Hepburn, and more recently "The Hours", "The Hunger," "Mulholland Drive," "Vicky Cristina Barcelona" and this year, "Black Swan."
But movies with lesbian couples at the film's core have been few and, for the most part, were confined to art house theaters. They include "The Incredibly True Adventure of Two Girls In Love," "Go Fish," "Bound," and "High Art," which was directed by "Kids" maker Lisa Cholodenko.
Some, like "Kissing Jessica Stein," earned box office success. It made $10 million worldwide. "Boys Don't Cry" won Hilary Swank her first Oscar, although that film dramatized a transgender man who pursues a relationship with a woman.
Cholodenko told Reuters that although the recognition "Kids" has gained is groundbreaking for a film centered around a lesbian couple, she and writing partner Stuart Blumberg never intended to make a "lesbian identity" film.
"When I decided to write about this topic and this family, I wanted to do it in a more mainstream, accessible way," she said. "But it took us a long time to find our path."
THE PLOT TWIST
But like any good movie, the success of "Kids" comes with a plot twist. While the lesbian, gay, bisexual and transgender community widely supported "Brokeback," some LGBT men and women have been disappointed in Cholodenko's adultery subplot.
Merryn Johns, Editor-in-Chief of U.S. lesbian magazine, "Curve," said the reaction was baffling. The community should celebrate the movie's "widespread praise and acceptance from the mainstream," she said, calling its crossover success "a marker for how far we have come."
"As flawed as the characters in the film are, they are people first and lesbians second," Johns said.
Cholodenko also defended the film, saying "sexuality is so complicated" it can't be reduced to "these binary positions."
Despite the film's unintended controversy within the LGBT community, experts predicted the ultimate outcome of "Kids," would be more lesbian movies, characters and plot points in major Hollywood movies in the months and years ahead.
Village Voice columnist Michael Musto said the film broadly shows "all the problems and relationship ups and downs that go with a family." It just so happens, the family has two moms.
"That is a big breakthrough in that audiences come away loving the characters and sticking with them through their travails," he said. "I feel this film and the inevitable Oscar noms will make LGBT families more of a staple in movies. If it doesn't, it'll be a crime."
Hammond said Hollywood was "changing as the country is changing…The audience has changed and that has changed the Hollywood attitude toward doing these things. You will see more. I don't think it will be a big deal."