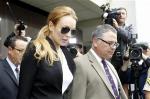 LOS ANGELES (Reuters) – Even in rehab, trouble seems to find Lindsay Lohan.
The actress whose career has stumbled in recent years from drug and alcohol abuse is now under investigation for the misdemeanor crime of battery, an official in Riverside County, California said on Tuesday.
The alleged battery took place at the Betty Ford Center, the rehabilitation facility where Lohan is currently residing in Rancho Mirage, Calif., about 120 miles east of Los Angeles.
Riverside County Deputy Sheriff Herlinda Valenzuela said police were called to the facility in the early morning hours of December 12 and conducted a battery investigation involving Lohan and an unnamed member of the center's staff.
"The victim desires prosecution," Valenzuela said, but she added that detectives have not yet completed their investigation. No further details were available.
Lohan's estranged father, Michael Lohan, told celebrity news website X17 that the staff member confronted Lohan for being late to return to the center after a hair appointment, grabbed Lohan's arm and the actress brushed it away.
TMZ.com cited sources connected with Lohan as saying the actress now wants police to launch a criminal investigation against the staff member. But that could not be confirmed.
Back in October, Lohan was ordered to spend time in rehab after she failed a random drug test, thus violating her probation on a 2007 drunk driving charge. She is expected to be released from the Betty Ford clinic on January 3.
(Editing by Christine Kearney)