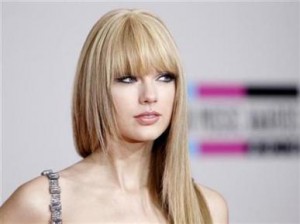 LOS ANGELES (Billboard) – Taylor Swift returned to the No. 1 slot on the U.S. pop album chart on Wednesday, knocking reigning champ Susan Boyle to No. 2, and holding Michael Jackson's new album to a No. 3 debut.
Swift's "Speak Now" sold 259,000 copies during the week ended December 19, according to Nielsen SoundScan — enough to give it a third nonconsecutive week at No. 1. With sales of 2.6 million after just eight weeks, "Speak Now" is the year's third-best selling set, behind Eminem's "Recovery" (3.2 million) and Lady Antebellum's "Need You Now" (3 million).
Boyle's "The Gift" followed close behind with 254,000 copies, and a six week-total of 1.6 million. It spent four nonconsecutive weeks at No. 1.
Jackson's much buzzed-about "Michael" sold 228,000 copies, a little higher than initial industry prognostications last week. The late pop star topped the chart a year ago when his "This Is It" soundtrack opened to 373,000 copies.
Jackie Evancho's "O Holy Night" rose one to No. 4 with 191,000, and the "Glee" Christmas album fell two to No 5 with 158,000.
R. Kelly's "Love Letter" debuted at No. 6 with 154,000, an improvement on the 114,000-unit, No. 4 start for "Untitled" a year ago.
Diddy-Dirty Money's "Last Train To Paris" rolled in at No. 7 with 101,000 — a number rather larger than initial forecasts. Diddy was last on the tally with his "Press Play" set in 2006, when it started at No. 1 with 170,000.
Nicki Minaj's "Pink Friday" fell two to No. 8 with 97,000 copies. Kid Rock's "Born Free" soared six to No. 9 (94,000), in the wake of sale advertising at major retailers last week. The "Glee, the Music: Season Two: Volume 4" album dropped two to No. 10 (87,000).
This year's "American Idol" runner-up Crystal Bowersox came in at No. 28 with "Farmer's Daughter" (58,000). That sales figure beats the start of winner Lee DeWyze's "Live It Up" (39,000, No. 19) a few weeks ago.
Overall album sales totaled 12.50 million units, up 23% compared to the previous week, but down 17% compared to the comparable sales week of 2009. Year to date album sales stand at 303.94 million, down 13% compared to the same total at this point last year.
By Keith Caulfield