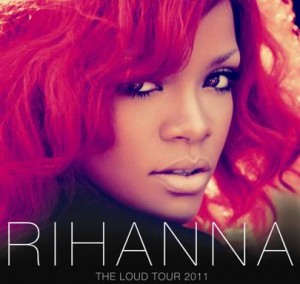 Extraordinary live entertainer and pop music superstar Rihanna confirms critically acclaimed lyricist and fellow Roc Nation artist J. Cole will join her, and incomparable musical genius Cee Lo Green, on the LOUD North American tour.  The North American leg featuring Rihanna, Cee Lo Green and J. Cole begins on June 4th in Baltimore, at the 1st Mariner Arena, with 28 dates confirmed and more to be announced soon.   Tickets for the Live Nation produced tour are available at Ticketmaster.com and Live Nation.com.
Over 760,000 fans around the globe have tickets to join Rihanna for a night to remember. Following the North American leg, Rihanna will take her show internationally for 56 shows, beginning September 29th in Europe, with sell outs in nearly every market.  Global ticket sales for the 2011 LOUD tour have already surpassed total ticket sales for Rihannaâ??s 2010 global tour, Last Girl on Earth, which drew nearly 500,000 fans.
"I'm excited to be heading out with Rihanna on the North American leg of her LOUD Tour. I have a high respect for both RiRi and Cee Lo, and I appreciate the opportunity to perform in front of an audience as large and diverse as theirs." said J. Cole
Rihannaâ??s current smash single, â??S&Mâ? has sold more than 1.2 million digital copies from her hit album LOUD which has given fans a string of #1 hit songs including, â??Only Girlâ? and â??Whatâ??s My Name.â?Â Â Â  Rihanna has sold a collective 26 million albums and 46 million digital singles since her debut in 2005.
Cole released his first mixtape in 2007 which found its way throughout music circles and led to his signing with Roc Nation.  With the ability to write thought provoking songs packed with sharp wit and clever lines, Cole is able to connect with listeners in a way that is seldom seen among MCs today. Coleâ??s unique abilities have led him to a successful tour with Drake, an appearance on JAY-Zâ??s â??A Star Is Bornâ? (Blueprint 3), as well as, the covers of the Source, XXL and inclusion in BETâ??s â??Rising Iconsâ? series. Coleâ??s highly anticipated studio album is scheduled to be released later this year.
Grammy Award winner Cee Lo Green is enjoying phenomenal success from his current smash single â??Forget Youâ? from his acclaimed third solo release, CEE LO GREEN THE LADY KILLER.  The song became a viral video phenomenon prior to winning a Grammy for â??Best Urban/Alternative Performance,â? at this yearâ??s 53rd Annual Grammy Awards ceremony.  Cee Lo began his career as part of the renowned and influential Atlanta hip hop group Goodie Mob prior to breaking out on his own as Cee Lo Green. Cee Lo released his acclaimed debut solo album CEE LO GREEN AND HIS PERFECT IMPERFECTIONS in 2002 to incredible critical applause and followed up in 2004 with CEE LO GREEN IS THE SOUL MACHINE. Cee Lo is also part of the superstar duo Gnarls Barkley with heralded alternative music producer Danger Mouse, whose debut album featured the genre crossing global hit single, â??Crazy.â?