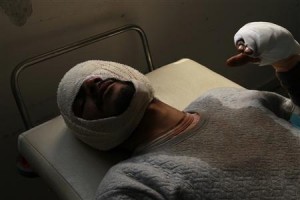 A NATO air strike killed at least five rebels near the Libyan port of Brega on Thursday, medics said, and insurgents reported Muammar Gaddafi's forces killed five more in a bombardment of besieged Misrata.
Wounded rebels being brought to a hospital in Ajdabiyah in rebel-held east Libya said their position was hit by an air strike on Thursday outside the contested port.
"It was a NATO air strike on us. We were near our vehicles near Brega," wounded fighter Younes Jumaa said from his stretcher at the hospital.
Nurse Mohamed Ali said at least five rebels were dead.
Medical workers carried uniforms soaked in blood from one of hospital rooms in Ajdabiyah, gateway to the insurgent stronghold of Benghazi in the east.
Rebel fighters were weeping on their knees in the corridor.
"NATO are liars. They are siding with Gaddafi," said Salem Mislat, one of the rebels.
There was no immediate comment from NATO.
It was the second time in less than a week that rebels had blamed NATO for bombing their comrades by mistake. Thirteen died in an air strike not far from the same spot on Saturday.
A doctor who had been at the front among rebel ambulance crews said they were hit by a government rocket attack immediately after the air strike. One medical worker was killed.
The rebels have been fighting to wrest control of Brega from forces loyal to Gaddafi for a week in a see-saw battle along the Mediterranean coast.
Rebel spokesmen also told Reuters that Gaddafi forces killed five people and wounded 25 in an artillery bombardment of the isolated western city of Misrata on Wednesday.
The barrage forced the temporary closing of Misrata's port, a vital lifeline for supplies to besieged civilians, the spokesmen said. They added that NATO air strikes hit pro-Gaddafi positions around Misrata.
Misrata, Libya's third city, rose up with other towns against Gaddafi in mid-February, and has been under siege for weeks, after a violent crackdown put an end to most protests elsewhere in the west of the country.
OIL PRODUCTION PLUNGES
United Nations Secretary-General Ban Ki-moon expressed concern about deteriorating conditions for civilians in Misrata and Zintan in the west, and Brega in the east.
He said the situation in Misrata was particularly grave and called for an immediate end to all attacks against civilians.
The civil war has cut oil output in the major supplier by 80 percent, a senior government official said on Thursday, as rebels and Gaddafi's forces traded charges over who had attacked oil fields vital to both sides.
Rebels say government attacks on three different installations in the east have halted production of the oil they need to finance the eight-week uprising against Gaddafi.
But government Deputy Foreign Minister Khaled Kaim told reporters the British air force had damaged an oil pipeline in a strike against the Sarir oilfield that killed three guards.
NATO denied any alliance air strikes in the Sarir area and said forces loyal to Gaddafi were responsible for an attack which started a fire in the oilfield. It said Gaddafi was trying to disrupt oil supplies to the rebel-held port of Tobruk.
Shokri Ghanem, chairman of the government National Oil Corporation, told Reuters on Thursday the country's production had fallen to 250,000 to 300,000 barrels per day (bpd) compared to 1.6 million before the uprising.
He called a reported shipment of Libyan oil by the rebels "very sad" and said it would only contribute to tensions and divide the country.
The Liberian-registered tanker Equator sailed from the port of Marsa el-Hariga, near Tobruk, on Wednesday, apparently with the first cargo of crude sold by rebels since their uprising began in February. Oil traders said the cargo, vital to fund the uprising, was headed for China.
CONFUSION
There was confusion on Thursday about the fighting near Brega with journalists kept back in Ajdabiyah, but one rebel fighter said government rockets had hit the town's western boundary.
Other insurgents said a 130-strong rebel force was about 25 km (15 miles) east of Brega, which has been fought over for a week with neither side able to make major gains.
France said on Thursday that while the West must work harder for a political solution in Libya, the outside world should also do more to support the rebels.
"Gaddafi has clearly lost all legitimacy, his camp is disintegrating and we are seeing new defections every day. On the other hand his force and rebel forces continue to fight each other without any side winning," Foreign Minister Alain Juppe said.
Gaddafi appealed for a halt in the air campaign in a rambling three-page letter to U.S. President Barack Obama bluntly dismissed by Secretary of State Hillary Clinton on Wednesday.
"Mr. Gaddafi knows what he must do," Clinton told a news conference with Italian Foreign Minister Franco Frattini, reiterating calls for a ceasefire, the withdrawal of his forces from cities they have stormed and his departure from Libya.
Civil war in the vast North African desert oil producer ignited in February when Gaddafi tried to crush pro-democracy rallies against his 41-year rule inspired by uprisings that have toppled or endangered other autocrats across the Arab world.
REBELS Criticize NATO
The head of Libya's rebel army has condemned NATO for its alleged slowness in ordering air strikes to protect civilians, saying the alliance was "letting the people of Misrata die."
France's Juppe said: "We've formally requested that there be no collateral damage for the civilian population … That obviously makes operations more difficult."
But General Abdel Fattah Younes was adamant that Gaddafi was conducting massacres. "Day by day people are dying. Hundreds of families are being wiped off the face of the earth. Patience has its limits," he said.
Asked whether he found NATO's argument that it is trying to prevent civilian casualties convincing, he said:
"No, it's not convincing at all. NATO has other means. I requested there be combat helicopters like Apaches and Tigers. These damage tanks and armored vehicles with exact precision without harming civilians."
By Michael Georgy
AJDABIYAH, Libya (Reuters) – (Additional reporting by Alex Dziadosz in Benghazi, Mariam Karouny in Beirut, Hamid Ould Ahmed and Christian Lowe in Algiers and Marie-Louise Gumuchian in Tunis; Writing by Barry Moody; Editing by Jon Hemming)