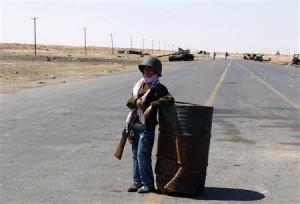 Britain pressured other NATO members to step up ground attacks in Libya on Wednesday but cracks appeared in the alliance as foreign ministers met in Qatar to try to break the deadlock in the civil war.
NATO divisions surfaced at the international "contact group" meeting, not only over arming the rebels and increasing air strikes but also on creating a fund from frozen Libyan assets to help the opposition trying to overthrow Muammar Gaddafi.
United Nations Secretary-General Ban Ki-moon underlined the humanitarian disaster caused by the war, telling the meeting that up to 3.6 million people, or more than half the population, could need assistance.
Paris and London are increasingly frustrated that air strikes have neither tipped the balance of the war in favor of rebels trying to end Muammar Gaddafi's 41-year rule nor even ended devastating shelling of the besieged city of Misrata.
French Foreign Minister Alain Juppe criticized NATO on Tuesday for not doing enough to stop the bombardment of the rebel-held port town, where hundreds of civilians are said to have died in more than six weeks of siege.
Libyan state television said on Wednesday that NATO planes had bombed Misrata's main Tripoli street, scene of repeated battles between rebels and government troops. It said people were killed, without giving details.
It said alliance planes also attacked Gaddafi's birthplace of Sirte, east of Misrata, and Aziziyah, south of Tripoli.
British Foreign Minister William Hague told Reuters that other coalition aircraft must join ground attacks.
"There are many other nations around Europe and indeed Arab nations who are part of this coalition. There is scope for some of them to move some of their aircraft from air defense into ground-strike capability," he said.
REBELS CALL FOR MORE NATO STRIKES
NATO said it destroyed 16 tanks, an anti-aircraft gun and a pickup truck in operations on Tuesday.
Rebels attending the Doha meeting said they expected more support, saying NATO was using "minimum" power and needed to step up attacks on Gaddafi's heavy weapons.
Britain and France, western Europe's two main military powers, are delivering most of the air strikes on Gaddafi's armor since President Barack Obama ordered U.S. forces to take a back seat.
Other NATO countries are either keeping their distance from the campaign or enforcing a no-fly zone but not bombing.
A wide gap appeared at once between NATO hawks and doves.
Belgian Foreign Minister Steven Vanackere said the March 17 U.N. resolution authorising NATO action in Libya — to protect civilians from Gaddafi's government forces — ruled out arming civilians and he saw no need to boost forces there.
In another disagreement, German Foreign Minister Guido Westerwelle voiced reservations about an Italian call to create a fund from frozen assets to aid the rebels. "The question is, is it legal? The answer is we don't know," he said.
Britain's Hague called for a temporary financial mechanism to fund rebel government in the eastern territory they control. The rebels said they needed $1.5 billion in aid for civilians.
A spokesman for the rebel national council at the Doha talks said the coalition was considering supplying arms which should go to soldiers who have defected from the army. The rebels only had "primitive weapons" taken from Gaddafi's troops, he said.
Hague also sought a clear statement from the ministerial group that Gaddafi must go, a demand reiterated in Doha by the rebels. The group of international powers has struggled to reach a consensus on calling for regime change.
Rebel spokesman Mahmud Awad Shammam said the national council took a positive view of an initiative by Muslim NATO member Turkey for a peaceful transition in Libya. But he added: "They have to say the magic word — that Gaddafi must go."
On the eastern front, rebels at Ajdabiyah said they were exchanging rocket fire with Gaddafi's forces from a point about 40 km (25 miles) east of the long contested oil port of Brega, which the government holds.
Libyan government spokesman Mussa Ibrahim lashed out against the West's "imperialist way of thinking," accusing world powers of trying to impose political change on Libya.
Germany said it had expelled five Libyan diplomats for intimidating the country's citizens living there.
Rebel spokesman Shammam said the rebels wanted to increase exports of crude oil to secure humanitarian aid rather than cash. Gaddafi's forces have attacked oil fields in the rebel-held east to choke off exports and Shammam said the insurgents were only exporting a minimal amount.
The African Union said it was pursuing its peace mission despite rebel rejection of any plan that left Gaddafi in power. "It is urgent that the members of the international community coordinate their efforts to find a quick solution," said the AU's chief diplomat, Jean Ping.
The "contact group" agreed to meet again in Italy in the first week of May to discuss Libya's future, an Italian Foreign Ministry spokesman said.
Moussa Koussa, a former Libyan foreign minister who fled to Britain last month, was in Doha on the sidelines of Wednesday's talks to meet the rebels, the British government said. But the rebel spokesman said they did not plan to speak to him.
(Additional reporting by Adrian Croft, Humeyra Pamuk and Regan Doherty in Doha, Michael Georgy in Ajdabiyah, Alexander Dziadosz in Benghazi, Souhail Karam and Richard Lough in Rabat, David Brunnstrom in Brussels, Christian Lowe in Algiers; writing by Barry Moody; editing by Paul Taylor)
DOHA/TRIPOLI (Reuters) – By John Irish and Maria Golovnina