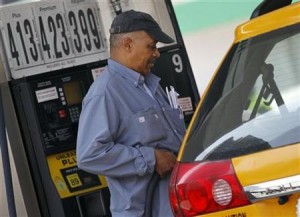 U.S. retail sales rose modestly in March as auto sales plunged and consumers stretched to pay for pricey gasoline.
Total retail sales increased 0.4 percent, the smallest gain in nine months, the Commerce Department said on Wednesday, after rising 1.1 percent in February.
Economists had expected retail sales to increase 0.5 percent last month and upward revisions to the prior months' numbers took the sting out the report.
"It does look like the consumer is hanging in there in the face of higher energy prices. That they wouldn't was everyone's concern," said Nicholas Colas, chief market strategist at the Convergex Group in New York.
U.S. stock index futures held their strong gains after the report, while bond prices added to losses. The dollar trimmed losses slightly versus euro.
According to the Energy Information Administration, gasoline prices rose 35 cents to an average $3.62 a gallon in March and it warned on Tuesday that prices could increase to about $4 a gallon nationwide this summer.
Receipts at gasoline stations, which accounted for about 10.7 percent of overall retail sales last month, increased 2.6 percent after rising 2.4 percent in February. Excluding gasoline, retail sales were up a scant 0.1 percent in March after a 0.9 percent rise the prior month.
Consumer spending, which accounts for 70 percent of U.S. economic activity, is expected to slow after growing at a brisk 4.0 percent annual rate in the fourth quarter, as rising gasoline and food costs eat into household budgets.
Economists, who view the high gasoline prices as a speed-bump in the economic recovery, have cut their first-quarter growth forecasts. They expect growth to regain its momentum later this year as improving labor market conditions boost incomes.
Compared to March last year, sales were up 7.1 percent.
Sales excluding autos rose 0.8 percent last month after increasing 1.1 percent in February, a touch above economists' expectations for a 0.7 percent increase. Auto sales fell 1.7 percent.
Clothing store receipts rose 0.6 percent last month, while sales at building materials and garden equipment suppliers increased 2.2 percent.
So-called core retail sales — which exclude autos, gasoline and building materials – rose 0.4 percent after a 1.1 percent gain in February.
Core sales correspond most closely with the consumer spending component of the government's gross domestic product report. Receipts at sporting goods, hobby, book and music stores edged up 0.1 percent.
WASHINGTON (Reuters) -  (Reporting by Lucia Mutikani, Additional reporting by Ryan Vlastelica in New York; Editing by Andrea Ricci)