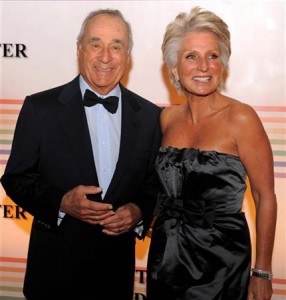 Sidney Harman, the stereo magnate who shocked the media world when he bought Newsweek magazine for $1, died on Tuesday from complications of acute myeloid leukemia, his family said. He was 92.
Harman, who made his fortune selling stereo equipment at the company he founded, Harman Kardon, was actively involved in politics, academia, philanthropy, and as of August of last year, magazine publishing.
Harman Kardon brought the "hi-fi" sound to the masses in the late 1950s — a sound once only available to professional studios. The stereos were a huge hit, comparable to today's iPod, according to a tribute to Harman on the Daily Beast website.
But it was his latest foray into magazine publishing that caught the attention of media observers. Harman swooped in and bought the money-losing Newsweek magazine from the Washington Post Co after its Chief Executive Donald Graham put the 78-year-old publication, which it owned since 1963, up for sale.
"I think it is conceit for me to offer you or anybody including my comrades at Newsweek a fully articulated vision," Harman said in a phone interview with Reuters after he purchased Newsweek in August. "The role of Newsweek ought to be to look at this complicated world and make sense of it every week."
A little more than three months later, Harman announced that Newsweek would combine with the website the Daily Beast, co-founded by Tina Brown and backed by IAC/InterActiveCorp>, run by Barry Diller.
NEW YORK (Reuters) -  By Jennifer Saba