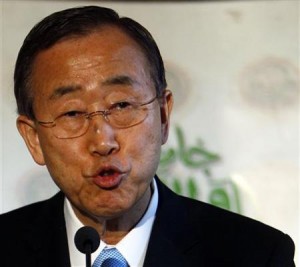 Lawmakers are poised to cut spending on the United Nations by hundreds of millions of dollars, less than a week after U.N. Secretary-General Ban Ki-moon came to Congress to ask for continued strong support.
Congressional aides said the expected $377 million in cuts — much of which would hit U.N. peacekeeping — were unlikely to put the United States in arrears on its dues because it has built up significant credits at the United Nations that could be used.
The reduction in U.N. funding was agreed upon as part of a deal reached by President Barack Obama and Republican and Democratic congressional leaders last week to pare $38 billion in spending during the current fiscal year, which ends September 30, and avoid a government shutdown.
The deal must still be approved by Congress. That is expected to happen this week, although there are opponents in both political parties who think either too little or too much will be slashed from government spending under the agreement.
Cuts to accounts affecting the United Nations will probably make the deal more popular in the Republican-led House of Representatives, where critics of the United Nations say the world body is bloated and serves as a forum for bashing Israel, a close U.S. ally.
Ban came from U.N. headquarters in New York last Thursday to tell lawmakers that while he was aware of the wave of austerity, "We need to have robust financial support from the United States.
The biggest U.S. cut — $237.3 million — was made in an account that goes to international peacekeeping operations. The United States will spend $1.89 billion for that, an 11 percent drop from the $2.13 billion in fiscal 2010, House aides said.
Another $100.6 million was cut from funds that support the core U.N. budget and some other international organizations. The deal says the United States will spend $1.58 billion for that, down from $1.68 billion a year earlier.
Washington is responsible for 22 percent of the core U.N. budget and more than 25 percent of its peacekeeping costs.
One House aide said the United States had $253 million in credits in these two areas, "so this (the cuts) should not put them into arrears" on U.N. dues.
Another $39 million cut is being made in voluntary contributions to organizations such as UNESCO — the United Nations Educational, Scientific and Cultural Organization — and the World Food Program.
Under the spending deal, the United States would spend $3.8 billion on the United Nations and other international organizations like the Organization of American states during the current fiscal year, down from $4.2 billion during the prior fiscal year.
WASHINGTON (Reuters) – (Reporting by Susan Cornwell; Editing by John O'Callaghan and Will Dunham)