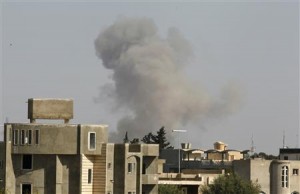 NATO warplanes launched air strikes on the Libyan capital Tripoli on Thursday and state-run Al-Libya TV channel reported that there were casualties.
"Tripoli is now subjected to air strikes. There are civilian casualties," a presenter said.
Reuters correspondents reported hearing four blasts and saw plumes of smoke rising from the southeast of the city.
Heavy anti-aircraft fire was also heard, before and after the blasts.
One photographer said she saw a jet in the sky moments before one loud explosion that threw up a plume of smoke.
A second correspondent said he could see smoke rising from the southeast of the city after hearing four blasts.
Earlier on Thursday, a Reuters witness said Libyan government forces fired anti-aircraft guns at NATO warplanes from positions in central Tripoli.
The witness said coalition jets appeared to have increased their number of sorties over the capital and could be heard flying overhead throughout the morning and early afternoon.
ALGIERS (Reuters) -(Reporting by Hamid Ould Ahmed in Algiers and Zohra Bensemra and Mussab Al-Khairalla;; Writing by Richard Lough; editing by Janet Lawrence)