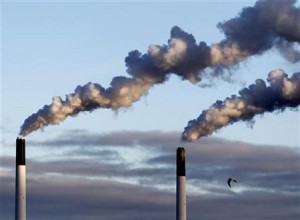 Spikes in air pollution may not boost the short-term risk of stroke in most people, but may present a hazard to some who are at high stroke risk, a new study hints.
In a study of 9,200 patients hospitalized for stroke, researchers found no clear connection between people's stroke risk and their exposure to short-term increases in fine-particle air pollution.
There was a link, however, among people with diabetes — one of the major risk factors for stroke. On a relatively polluted day, versus a relatively "clean" day, people with diabetes were about 11 percent more likely to suffer a stroke.
The findings, published in the journal Epidemiology, do not prove that air pollution triggers strokes in some people.
"The evidence is still mixed on this topic," said Dr. Gregory A. Wellenius of Brown University in Providence, Rhode Island, one of the researchers on the study.
"Those with stroke risk factors, like diabetes, may be at increased risk (from air pollution), but clearly more studies are needed," Wellenius told Reuters Health.
Fine particulate matter is released into the air when fossil fuels are burned, so car exhaust, wood burning, and industrial sources like power plants all contribute.
The particles are small enough that they can be inhaled deeply into the lungs, and researchers suspect they may trigger heart attacks, strokes or other cardiovascular "events" in vulnerable people by causing inflammation in the blood vessels and irritating the nerves of the lungs.
A number of studies have found a relationship between daily spikes in air pollution, particularly fine-particle pollution, and heart problems.
The American Heart Association now recommends that people with established heart disease and others at risk — including the elderly and people with diabetes or high blood pressure — try to limit their exposure to congested roadways and spend less time outside on days when air quality is poorer.
Some studies, but not all, have also found connections between stroke risk and short-term increases in fine-particle pollution.
For their study, Wellenius and his colleagues looked at data on 9,200 Ontario residents who had suffered a stroke and had the date and time of their first stroke symptoms in their medical records.
The researchers compared that information with local pollution levels collected from government air-quality monitors. They looked at pollution measurements during the two days before a patient's stroke, and on other days of that same month.
Overall, the researchers found no strong association between fine-particle pollution and patients' stroke risk.
The result was different, however, when they focused on the one-quarter of patients who had diabetes before having the stroke. For each fine-particle increase of 10 micrograms per cubic meter of air, their stroke risk climbed by almost 11 percent.
That fine-particle increase, Wellenius said, is essentially the difference between a relatively clear day and relatively polluted day in residents' local area.
The researchers found no clear connection between fine-particle levels and stroke among people with other risk factors — like high blood pressure or smoking.
But, Wellenius stressed, that does not necessarily mean that only people with diabetes are potentially affected. Again, more research is needed, he said.
In general, experts do recommend that people with existing heart or lung disease avoid outdoor activities on days where air quality is poor.
In the U.S., local news outlets generally provide daily air-quality indices; they are also available on the government website AIRNow, at http://www.airnow.gov.
But Wellenius emphasized that attention to lifestyle — a healthy diet, regular exercise, not smoking — and sticking with treatment for stroke risk factors, like high blood pressure and diabetes, is key.
"The best way to help prevent these events," he said, "is for people to take care of their overall cardiovascular health."
NEW YORK (Reuters Health) – By Amy Norton
SOURCE: http://bit.ly/ezOKxK Epidemiology, May 2011.