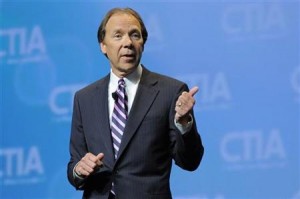 Sprint Nextel Corp CEO Dan Hesse attacked rival AT&T Inc's planned acquisition of T-Mobile USA on Friday, saying a tie-up between the two would hurt innovation and set the country's wireless industry back.
The chief executive of the No. 3 U.S. mobile operator lashed out against the $39 billion deal, now undergoing regulatory scrutiny, echoing the comments of other Sprint executives.
"If AT&T is allowed to swallow T-Mobile, competition will be stifled, growth will be stifled and wireless innovation will be jeopardized," Hesse told reporters and industry executives in downtown San Francisco.
James Cicconi, AT&T's senior executive vice president, external and legislative affairs, pointed out that in recent months Sprint executives had said the wireless industry was very competitive.
"It is self-serving for them to argue that the highly competitive wireless market they cited only months ago is now threatened by the very type of transaction they seemed prepared to defend previously," Cicconi said in a statement.
AT&T's deal, announced in March, would concentrate 80 percent of U.S. wireless contract customers in just two companies — AT&T/T-Mobile and Verizon Wireless, a venture of Verizon Communications and Vodafone Group Plc.
No. 2 U.S. mobile carrier AT&T, often criticized for dropped calls and slow connection speeds, has said the merger would spur innovation and economic growth by improving quality and expanding service to 95 percent of the U.S. population.
Deutsche Telekom AG owns T-Mobile.
SAN FRANCISCO (Reuters) -(Reporting by Noel Randewich; editing by Gerald E. McCormick, Bernard Orr)