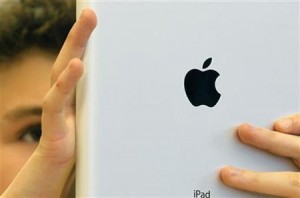 Apple Inc's results smashed Wall Street's expectations after iPhone and Mac sales scaled new heights while iPad supplies could not keep up with roaring global demand.
Shares of the world's most valuable technology corporation rose 3 percent after it said a record 18.65 million units of the category-defining iPhone — its flagship product — moved in the March quarter, outpacing the 16 million or so expected.
Apple sold just 4.69 million iPads — which command an 80 percent share of a burgeoning tablet market in which Motorola Inc and Samsung Electronics also compete — but investors argued that would not detract from strong long-term demand.
But investors largely ignored the lower-than-expected sales for iPads during the quarter as company executives said they were scrambling to meet "staggering" demand and were heavily backlogged for now.
"I'm not going to predict when supply and demand will come into balance," Chief Operating Officer Tim Cook said. "I can only be confident on supply side."
Apple's iPad 2 dominated the nascent market for tablets with competing products like Research In Motion's PlayBook receiving poor reviews from customers and experts.
The stellar results on Wednesday came as concern is growing over how component supply constraints after Japan's earthquake and tsunami would squeeze margins and restrain iPhone and iPad sales in coming months.
"Dynamite numbers across the board. The only hiccup is lower than expected iPad numbers," said Capital Advisors Growth Fund portfolio manager Channing Smith.
"We can attribute some of the weakness to stocking issues at some of the retail outlets and obviously the supply chain issue in Japan. Unfortunately, the supply chain issue will likely persist for the coming months but once we get past summer and the supply chain issues are resolved it's all systems go again for Apple."
Apple executives told analysts on a conference call they foresaw a hit to revenue this quarter of about $200 million — less than 1 percent of projected global quarterly sales — but expected no cost impact.
The company, known for its tight relationship with Asian suppliers, stands at the head of the queue for electronics components even if the supply crunch continues. Japan accounts for an estimated 6 percent of overall revenue.
"We source hundreds, literally hundreds, of items from Japan, and they range from components such as LCDs, optical drives, NAND flash and DRAM, to base materials such as resins, coatings," Cook said.
Apple did see some revenue impact from the crisis during the second quarter but it was not material to the results, Cook said, adding that he does not see any unsolvable problems related to the disaster.
On rising prices for memory chips, Cook said he felt "good" for the third quarter as the company does not typically buy in the spot market.
"Beyond Q3, I'm saying I'm not sure because it's tough to see that far," he said.
IPAD SALES MISS TARGETS
The March quarterly report was Apple's first under the stewardship of Cook after Chief Executive Steve Jobs went on his third medical leave in January.
Cook, who is known as an operations and supply chain maven, said his boss — who has undergone a liver transplant and survived a rare form of pancreatic cancer — still played an active role in important decisions.
"He is still on medical leave but we do see him on a regular basis. He continues to be involved in major strategic decisions. I know he wants to be back full time as soon as he can," Cook told analysts.
Apple's iPad sales in the quarter fell well short of Wall Street's expectations: some analysts had projected shipments of closer to or even more than 6 million for the tablet computer launched on March 11.
But the lower-than-expected number could be attributed to the fact that Apple recognizes revenue from its stores when its customers receive the products. The initial wait time for the iPad 2 was four to five weeks.
"We sold every iPad 2 we could make and the demand was stunning," Apple Chief Financial Officer Peter Oppenheimer told Reuters in an interview.
Apple's results come as it prepares to build the next iPhone model with a faster processor, which will begin shipping in September, three people with direct knowledge of the company's supply chain said on Wednesday.
Cook declined to comment on launch plans for the next iPhone.
It reported a net profit of $5.99 billion, or $6.40 a share, while revenue surged 83 percent to $24.67 billion. That surpassed expectations for $5.37 in earnings and $23.4 billion of revenue.
A large spike in sales of Mac computers, driven by the refreshed MacBook Pro, beefed up March-quarter earnings. Apple said it sold 3.76 million Macs, up 28 percent from a year ago.
Gross margins in the fiscal second quarter came to 41.4 percent, above Wall Street's average forecast of 39.03 percent.
Apple, which generally provides an ultra-conservative forecast, said it expected June quarter earnings of $5.03 a share on revenue of about $23 billion.
"IPad shipments were significantly lower than my estimates I think because of supply constraints," said Gabelli & Co analyst Hendi Susanto. "What impressed me was the gross margin."
Shares of Apple rose 3 percent to $353.67 after hours, from a regular session close of $342.41 on Nasdaq. They had fallen about 3 percent since Japan's quake.
The company's stock — which is trading at roughly 18 times forward earnings, versus 19 times for Google and 10 times for Microsoft — is considered a must-have in any technology portfolio.
SAN FRANCISCO (Reuters) – By Poornima Gupta and Noel Randewich
(Additional reporting by Jennifer Saba and Yinka Adegoke in New York, writing by Edwin Chan; Editing by Edwin Chan and Richard Chang)