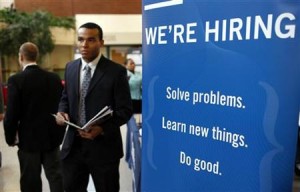 The number of Americans filing new claims for unemployment benefits fell last week but held above the key 400,000 level, hinting at some loss of momentum in the labor market recovery.
Initial claims for state unemployment benefits fell 13,000 to a seasonally adjusted 403,000, the Labor Department said on Thursday, unwinding some of the prior week's quarter-end jump.
Economists polled by Reuters had forecast claims slipping to 392,000. The prior week's figure was revised up to 416,000 from the previously reported 412,000.
The four-week moving average of unemployment claims, a better measure of underlying trends, rose 2,250 to 399,000.
"It gives the impression that the momentum of labor market improvement is a bit disappointing at this point," said Sean Incremona, an economist at 4Cast in New York.
"We are still looking at a moderate recovery, so near-term we might have to edge lower some employment calls. I think we are still going to see the recovery sustained."
The claims data covered the survey period for April's nonfarm payrolls report, which will be released in early May. Employers added 216,000 jobs in March, the most in 10 months, and the unemployment rate slipped to a two-year low of 8.8 percent from 8.9 percent.
U.S. Treasury debt prices extended gains on the report and the dollar fell to session lows against the yen.
Jobless claims below the 400,000 mark are usually associated with steady employment growth. Despite the increase last week, the four-week average has now been below that level for an eighth straight week.
A Labor Department official said three states — Pennsylvania, Virginia and Alaska — had been estimated for last week's data, raising the possibility for large revisions next week.
The number of people still receiving benefits under regular state programs after an initial week of aid fell 7,000 to 3.70 million in the week ended April 9, the lowest level since September 2008.
Economists had expected so-called continuing claims to slip to 3.67 million from a previously reported 3.68 million.
The number of people on emergency unemployment benefits dropped 23,693 to 3.53 million in the week ended April 2, the latest week for which data is available. A total of 8.3 million people were claiming unemployment benefits during that period under all programs.
WASHINGTON (Reuters) – (Reporting by Lucia Mutikani, additional reporting by Chris Reese in New York; Editing by Padraic Cassidy)