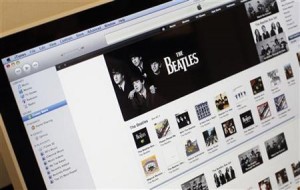 Apple Inc surprised no one with yet another quarter packed with spectacular numbers. But a miss in sales targets on the iPad may prompt some to temper their lofty views.
Apart from the iPad hiccup, investors appeared uniformly delighted with the near-doubling of the company's profit, sending its stock up 2 percent.
The stunning showing — again — alleviated Wall Street's main concern: pressure on margins from Japan's disaster. And it seemed a sterling report card for Tim Cook, the heir apparent to Steve Jobs, now on his third medical leave and widely expected not to return.
But Apple will face some tough year-over-year comparisons in coming quarters. Its double-digit growth rate on sales, which skyrocketed 83 percent to nearly $25 billion last quarter, may be hard to sustain.
"They are going to have comparison issues on the growth side," said Michael Walker, portfolio manager at WP Stewart. "They can't grow 83 percent forever. There's no way."
Apple sold fewer-than-expected iPads, at a little under 5 million versus estimates of up to 6 million, as the transition to a new model and Japanese supply chain tangles triggered shortages of critical components.
IHS iSuppli now estimates Apple will ship 39.7 million units for all models of the iPad this year, slashing 9.2 percent off its February figure of 43.7 million.
"While Apple is now on track to significantly increase its production volume in the second quarter, the company reportedly is still falling substantially short of its target production goal for April," said Rhoda Alexander, director of monitor research at IHS.
Still, at 39.7 million, IHS' forecast is on the higher side of Street estimates. BofA Merrill Lynch took down its forecast for iPad sales a tad to 26.4 million from 26.8 million. JPMorgan now estimates Apple selling 27.3 million, down from 28.9 million.
Investors remain wary of the dangers a prolonged logistics disruption in Japan — which supplies more than one-tenth of the world's electronics — pose to the global tech supply chain. Apple is said to rely on Asia's second-largest economy for crucial touchscreen and internal components.
Shares of Apple ended last week up 2.4 percent at $350.70. But that only brings the world's most valuable technology company back to where it was before the March 11 earthquake.
BENCH STRENGTH
Cuts aside, the company is on a tear and demand has never been an issue. Sales of the iPhone more than doubled, and made up almost half of revenue in the March quarter. On the iPad 2, Apple said it sold every one it could make.
On Thursday, more than 10 brokerages raised their price target on the stock, with Ticonderoga Securities expecting the shares to touch $612 in the next year.
"Is (Apple) a grown-up company? Yes. Is it a well managed company? Absolutely," Alex Gauna, analyst with JMP Securities, said. "Does it have talent internally beyond Steve Jobs? It sure does."
Under Cook, Apple embarked on a global roll-out of one of its most high-profile products, the iPad2, that was largely successful despite a slow global economy and a major earthquake in Japan, which houses hundreds of its parts suppliers.
Apple saw a limited impact in the quarter on supply or component pricing from the disaster and said it did not see any unsolvable problems.
"The fact that they keep performing quarter in, quarter out, is a testament to the bench strength of management talent," said Barry Jaruzelski, a partner with Booz and Co who leads its global technology practice.
The big growth story, though, is causing him to wonder if the law of large numbers may soon catch up.
"To grow 10 percent of a $100 billion company, which is now their run rate … you need to find $10 billion of new revenue," Jaruzelski said. "That means you need to find one and half Fortune 500 companies each year just to grow 10 percent."
But investors are not too worried for now, given its enviable place with well-designed products and market dominance.
"People who worry about the size of Apple don't understand the sheer size of the markets they are selling in," Walker said. "One way we look at it is that there is about $950 billion spent on IT every year."
"Apple addresses almost $600 billion of that $900 billion."
SAN FRANCISCO (Reuters) – By Poornima Gupta
(Reporting by Poornima Gupta; Editing by Steve Orlofsky)