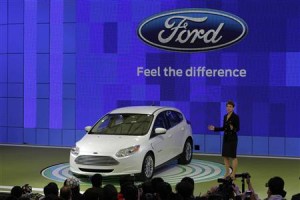 Ford Motor Co reported its best first-quarter profit in 13 years, driven by strong sales in its home market and demand for more fuel-efficient vehicles.
Ford also said on Tuesday that last month's earthquake which has hurt the supply chain in Japan has had "minimal" impact on its business, and analysts said Ford may even stand to gain.
"Ford continues to get market share. We expect this trend will continue," said Channing Smith, co-manager of Capital Advisors Growth Fund, which owns Ford shares. "I think Ford and a lot of the other American automakers will take market share from the Japanese."
Ford is the first U.S. automaker to report earnings since the March earthquake in Japan jolted the global supply chain especially for Japanese makers.
While Japanese automakers Toyota Motor Corp and Honda Motor Co have said they expect deep cuts in production this year, Ford said its business will not be greatly affected.
Lewis Booth, Ford's chief financial officer, said that so far, since the earthquake in Japan, the automaker has lost the production of 12,000 to 14,000 vehicles in Asia, where it has shut several plants temporarily.
Ford beat quarterly earnings expectations by 12 cents a share, which helped send the company's shares up 3.5 percent to $16.09 in trading before the market opened. Its fourth-quarter 2010 results missed analyst expectations by a wide mark, ending a string of quarters in which Ford easily exceeded expectations.
Any near-term production losses are likely to recover in late 2011 and into 2012, Ford said. Production in Ford's business regions outside of Asia have not yet seen much change.
Ford maintained its projections for North American production in the second quarter at 710,000 vehicles. For the first time, Ford disclosed its projected second-quarter global production figure of 1.46 million.
Net income rose to $2.55 billion, or 61 cents a share, compared with $2.09 billion, or 50 cents a share, in the year earlier period. It was the highest first-quarter net income since 1998.
Excluding one-time items, it earned 62 cents a share, easily topping the 50 cents analysts polled by Thomson Reuters I/B/E/S had expected. It was the seventh straight quarter of operating profit.
Revenue rose to $33.1 billion from $28.1 billion last year. Analysts had expected $29.7 billion.
PRICING DISCIPLINE
Alan Mulally, who took over as chief executive in 2006, has turned the company around since it lost $30 billion from 2006 to 2008 by streamlining business operations including design, production and management of its balance sheet.
Booth pointed to Ford's pricing discipline in turning in what he called "fantastic" quarter.
"As we build what we can sell, we're not chasing marginal, unprofitable share. We're staying very disciplined on incentives," he told reporters on Tuesday morning.
Ford stands to gain U.S. market share as it can take advantage of the recent redesign of its Fiesta and Focus models just as gasoline prices spike and Japan's automakers, which have dominated the U.S. small-car market for decades, expect thin inventories in May and June, analysts said.
Ford said that higher commodity costs including oil and gasoline prices may provide a headwind to growth for the rest of the year.
J.P. Morgan analyst Himanshu Patel in a research note cited a profit rebound in North America driven by stronger pricing and lower costs. He also pointed to stronger-than-expected results at Ford Credit that he called "unsustainable."
Ford Motor Credit Co earned $713 million in the first quarter on a pretax basis. Patel had expected $428 million and credited the higher number to a stronger-than-expected performance on lease residuals.
Ford regained its footing in Europe in the first quarter, showing a pretax operating profit of $293 million, up from a profit of $107 million a year ago. Sales were up $1 billion to $8.7 billion in Europe.
In the fourth quarter, Ford reported an operating loss of $51 million in Europe that was blamed for Ford's failure to meet analyst expectations.
(Garbled figures on Asia production was corrected in paragraph 6)
DETROIT (Reuters) – By Bernie Woodall and Ben Klayman
(Reporting by Bernie Woodall and Ben Klayman; Editing by Derek Caney and Matthew Lewis)