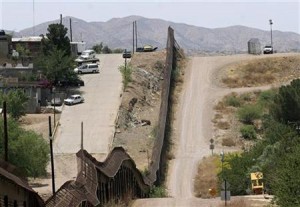 Spreading drug cartel violence in northern and central Mexico has led U.S. authorities to increase the number of states Americans should avoid for safety reasons.
A U.S. State Department travel advisory issued over the Easter weekend warned Americans to avoid all but essential travel to 10 states in northern and central Mexico due to "ongoing violence and persistent security concerns," up from six states named in a caution issued last September.
The latest advisory added warnings against nonessential travel to parts of Sonora, south of Arizona, and to parts of Mexico's central Jalisco, San Luis Potosi and Zacatecas states, where cartel violence has spiked in recent months.
It also kept in place warnings issued last September advising against nonessential travel to northern Tamaulipas and central Michoacan states, as well as parts of northwestern Durango and Sinaloa states and the border states of Coahuila and Chihuahua, south of Texas.
"Bystanders, including U.S. citizens, have been injured or killed in violent incidents in various parts of the country, especially, but not exclusively in the northern border region, demonstrating the heightened risk of violence throughout Mexico," the warning said.
More than 37,000 people have been killed in Mexico since late 2006 when President Felipe Calderon took office and sent the armed forces to crush powerful cartels battling for lucrative smuggling routes to the United States.
The State Department advisory noted that 111 Americans were reported murdered in Mexico last year, up from 35 in 2007.
In one gruesome sign of escalating violence, authorities earlier this month retrieved 177 corpses from a mass grave in San Fernando, Tamaulipas. Mexico's Attorney General blamed the Zetas drug cartel for the killings.
In another high profile crime, a U.S. federal agent was shot dead and a second wounded while driving on a highway in San Luis Potosi in February, in an attack also blamed on the Zetas.
PHOENIX (Reuters) – (Reporting by Tim Gaynor; Editing by Jerry Norton)