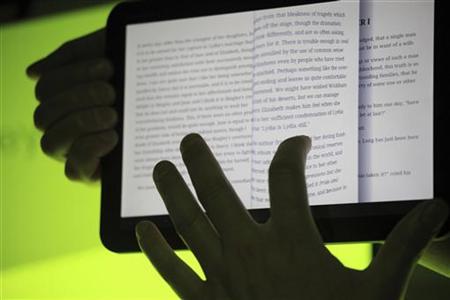 Google Inc has yet to agree with authors and publishers on a legal plan to create the world's largest digital library, and a federal judge who struck down an earlier accord gave it another seven weeks to try."The parties are still considering what options are available," and everything "is on the table,"
Bruce Keller
, a partner at Debevoise & Plimpton, who represents publishers in the settlement, said at a hearing before Circuit Judge
Denny Chin
in Manhattan federal court.
Citing antitrust and copyright concerns, Chin rejected on March 22 a $125 million settlement, saying it went "too far" in allowing Google to exploit digitized copyrighted works by selling subscriptions to them online and engage in "wholesale copying of copyrighted works without permission."
Google, which runs the world's largest Internet search engine, had scanned about 12 million books, saying it would ease access to materials for readers and researcher.
Chin set a July 19 status conference in the case after Keller asked for 60 additional days to negotiate.
"The issues are complicated," the judge said.
The earlier settlement would have resolved a 2005 lawsuit brought by The Authors Guild and the Association of American Publishers over Google's book-scanning.
Google would have been allowed to sell online access to millions of out-of-print books. The Mountain View, California company would have created a registry of books and paid $125 million to people whose copyrighted books had been scanned and to locate authors of scanned books who had not come forward.
But rivals such as Amazon.com Inc and Microsoft Corp, as well as a variety of academics and authors, complained the settlement gave Google too much power, or else violated antitrust and copyright law.
The Justice Department also said the agreement appeared to violate the law. Like others, it expressed concern that Google could win exclusive rights to millions of "orphan" works, where the owners of the rights could not be located.
Chin has urged Google, authors and publishers to amend the settlement to include only books whose copyright owners agreed to the arrangement, rather than require authors to "opt out."
After Wednesday's hearing, Google said in a statement it is exploring "a number of options" to address Chin's concerns, while Tom Allen, chief executive of the Association of American Publishers, said litigation will resume if talks fail.
Amazon sells the Kindle digital reader, which is not compatible with Google's library. Sony Corp, which makes an compatible e-reader, favored the agreement.
Google launched an electronic bookstore with 3 million books in December after receiving permission from publishers.
Chin was elevated last year to the 2nd U.S. Circuit Court of Appeals, but retained control over the Google case, which he handled as a district judge.
The case is The Authors Guild et al v. Google Inc, U.S. District Court, Southern District of New York, No. 05-08136.
NEW YORK (Reuters) – By Jonathan Stempel(Reporting by Jonathan Stempel in New York; additional reporting by Diane Bartz in Washington, D.C.; editing by Andre Grenon)