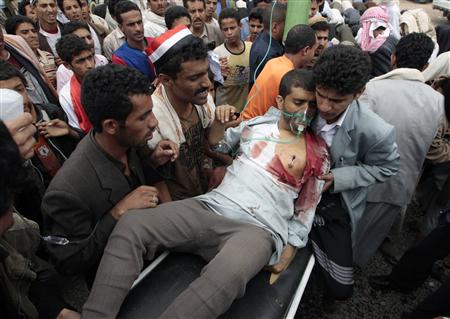 Forces loyal to President
Ali Abdullah Saleh
battled with tribal fighters in
Yemen
's capital on Thursday in overnight clashes that killed dozens as a U.S. envoy flew around the region to try and stop a civil war.Ferocious fighting in the streets of
Sanaa
which grew out of protests against Saleh's rule since January has killed at least 135 people in the past 10 days calling into question the future of the troubled state.
Saleh has reneged on deals by regional leaders to secure a peaceful end to his nearly 33 years in power. President Barack Obama's top counter-terrorism adviser arrived on Wednesday in the region to reinforce the drive to oust him.
Global powers are worried that Yemen, home to a wing of militant group al Qaeda known as AQAP and bordering the world's biggest oil exporter Saudi Arabia, could become a failed state raising risks for world oil supplies.
Even before the wave of pro-democracy protests against his rule, Saleh was struggling to quell a separatist rebellion in the south and a Shi'ite insurgency in the north.
U.S. envoy John Brennan left Saudi Arabia on Thursday for more talks on Yemen in the United Arab Emirates, a U.S. official in Saudi Arabia said. He will seek the help of the two countries' leaders to pressure Saleh to accept the exit deal.
The battles in Yemen are being fought on several fronts, with street fighting between tribal groups and Saleh's forces in Sanaa, popular protests across the country and a battle against al Qaeda and Islamists militants who have seized a coastal city.
Passengers said flights were suspended for several hours at Sanaa airport, which was briefly shut last week, due to the fighting. The airport reopened in the afternoon.
In Taiz, about 200 km (120 miles) south of Sanaa, Yemeni soldiers fired warning shots at demonstrators protesting against a government that has brought the nation to the brink of ruin. Medical sources in Taiz said there were no injuries.
EXACERBATED BY POVERTY
More than 40 percent of Yemenis live on less than $2 a day while a third face chronic hunger. Dwindling water and oil supplies are also problems.
The U.N. human rights envoy said this week her office was investigating reports that Yemeni soldiers have killed at least 50 protesters in Taiz since Sunday.
In Sanaa, civilians have been fleeing the city in the thousands, hurriedly packing possessions to their cars.
"It felt as if the artillery shells were flying next to my head … My wife, my daughter were screaming. It was horrible," resident Sadeq al-Lahbe said before leaving.
"There is no electricity, no water and violent strikes shaking the house. Is this life?"
The United States and others have been pressing Saleh to accept a Gulf-led agreement to step down in return for immunity from prosecution. But the wily veteran has exasperated them by agreeing to it three times, only to renege at the last minute.
"We strongly condemn the recent clashes in Sanaa and the deplorable use of violence by the government against peaceful demonstrators in Taiz," the White House said on Wednesday, announcing Brennan's visit.
Embassies have closed, diplomats have been leaving and there are worries of a refugee crisis, with thousands of civilians fleeing the coastal city of Zinjibar and other towns. Oman has tightened patrols along its border with Yemen.
FIGHTING DIVIDES SANAA
In Sanaa, forces loyal to Saleh have been fighting the powerful Hashed tribal confederation, who are led by Sadeq al-Ahmar in street battles with machine guns, mortars and rocket propelled grenades for nearly two weeks.
Security forces raided offices used by the opposition Suhail TV and confiscated equipment, an opposition official said.
The state news agency Saba said several gunmen were arrested at the office, which it said was used to attack nearby areas in the Hasaba district, the scene of intense street fighting.
The capital is divided, with the tribesmen and military groups that have broken away from Saleh holding the north while forces loyal to Saleh hold the south.
Residents said dozens were likely killed in the most recent round of street battles in Sanaa fought mostly for control of government buildings and near the bases of Saleh's foes.
"The key risk for the region is either a prolonged stalemate (in Yemen) or a continued deterioration into a power vacuum," said Christian Koch, director of international studies at the Gulf Research Center.
"This would accelerate the disintegration of the military institutions, intensify tribal conflicts and divisions, heighten the threat from extremist groups like AQAP by allowing them to spread their influence and possibly plan operations, and spark further separatist tendencies," he said.
Troops and locals are fighting to oust Islamist and al Qaeda militants who took control of Zinjibar at the weekend, with warplanes dropping bombs on militant positions and buildings in the city from which most of the population has fled.

SANAA (Reuters) – By Mohamed Sudam and Mohammed Ghobari(Reporting by Mohammed Mukhashaf in Aden, Khaled al-Mahdi in Taiz, Alister Bull in Washington and Sara Anabtawi, Firouz Sedarat and Nour Merza in Dubai; writing by Jon Herskovitz; editing by Peter Millership)