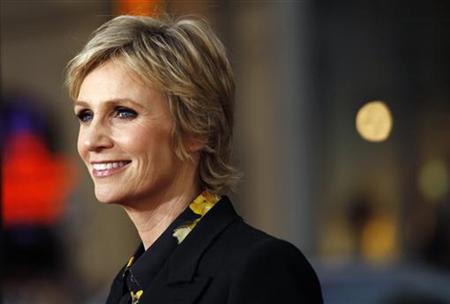 "Glee" star Jane Lynch will host the Primetime Emmy Awards ceremony in September, organizers of the television industry's top honors said on Thursday.
Lynch, 50, won an Emmy last year for her role as scheming high school cheerleader coach Sue Sylvester on the Fox musical comedy series.
The actress said she was "tickled pink" to be hosting the 2011 ceremony, to be televised live from Los Angeles on September 18.
"I'm looking forward to singing, dancing and sporting my finest tracksuit," she quipped in a statement.
Mark Burnett, the executive producer of the Emmy Awards show, said Lynch was his first choice to host the show.
"She has incredible comedic timing, and is a charismatic, talented actress whose energy leaps off the screen and stage. I am thrilled and excited to have her as our host," Burnett said in a statement.
Nominations for the 63rd Primetime Emmy Awards will be announced on July 14. The awards will be handed out on September 18 in a ceremony broadcast on Fox.
Last year's ceremony was hosted by comedian Jimmy Fallon, giving the show its largest TV audience since 2006.
LOS ANGELES (Reuters) -  (Reporting by Jill Serjeant, editing by Christine Kearney).