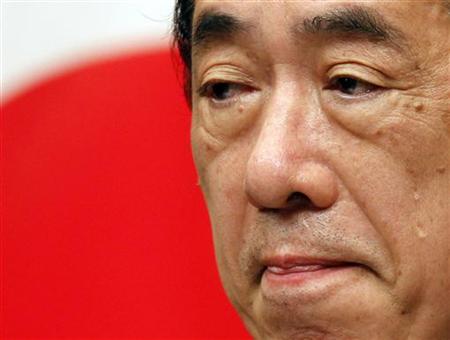 Japan
's fractious ruling party resumed its bickering Friday after Prime Minister
Naoto Kan
hinted he wanted to keep his job into the new year, angering rivals who had voted down a no-confidence motion in return for a promise he would quit much sooner.The squabbling will likely further hamper efforts by Kan, who took office a year ago as
Japan
's fifth premier in as many years, to tackle steps needed to rein in massive public debt while engineering growth in the fast-aging country.
Kan survived the no-confidence motion Thursday after a last-minute offer to resign persuaded party critics not to defect and drive him from office even as the country struggles with the world's worst nuclear crisis in 25 years.
The maneuver appeared to buy Kan time to prepare an extra budget to pay for rebuilding from the March 11 earthquake and tsunami, which devastated northeast coastal areas and triggered a radiation crisis at Tokyo Electric Power Co's Fukushima Daiichi nuclear plant.
In a voter poll by Kyodo news agency Thursday and Friday, Kan's support rate rose to 33 percent from 28 percent in May.
But bickering quickly resurfaced after Kan's comments at a late-night news conference suggested he wanted to stay on until damaged reactors at the disabled nuclear plant achieved a stable "cold shutdown," a process expected to take at least until January and probably longer.
"If he cannot keep his promise he is a fraud," former Prime Minister Yukio Hatoyama, who brokered Thursday's last-minute pact with Kan, told reporters.
"If he doesn't keep his word I will take decisive action."
Hatoyama told reporters Thursday that Kan had agreed to quit after drafting the extra budget, a process he said could be finished this month.
Disaster Management Minister Ryu Matsumoto told reporters it was clear the deal was for Kan to step down soon. "I think it's the end of June," he said.
In the Kyodo poll, 48 percent of voters said Kan should quit, while 45 percent said he need not do so, although it was unclear if voters wanted him to quit right away. Earlier polls showed many voters want a new leader but only after the crisis has subsided.
There is no obvious successor to Kan in sight. The Kyodo poll showed voters' top choice for next leader was the policy chief of the main opposition Liberal Democratic Party (LDP), Shigeru Ishiba, with 13 percent support.
The next choice was conservative former foreign minister Seiji Maehara in the ruling party but with just 11 percent, while 24.6 percent of voters were undecided or gave no answer.
In repeated questioning in parliament Friday Kan again refused to be pinned down on when he will resign.
The main opposition LDP, which says Kan is incapable of dealing with the nuclear accident and of leading the effort to rebuild Japan's tsunami-devastated northeast, also weighed in, saying it could not cooperate with a lame-duck leader.
"The method you used to vote down the no-confidence motion was … a sleazy and makeshift fraud, something a politician, a human being or the leader of Japan should absolutely not commit," LDP lawmaker Ichita Yamamoto told Kan in parliament.
Opposition parties, which control parliament's upper house and can block bills, have insisted that Kan step down before they will cooperate on implementing policies.
Some LDP lawmakers have threatened to submit a non-binding censure motion against Kan in the less powerful upper house.
Kan's rivals in the DPJ, which swept to power for the first time in 2009 promising change, have been angered by his abrasive style and fear his low voter ratings would hurt them at the next general election for the lower house, which must be held by 2013.
Many are also irked by Kan's shift toward fiscal reform and away from costly campaign promises on initiatives to put more money into households.

TOKYO (Reuters) – By Linda Sieg and Yoko Nishikawa(Editing by Nick Macfie)