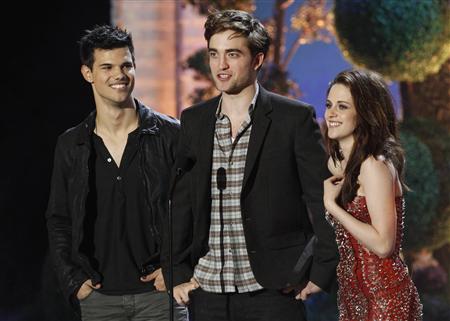 Viewership for the MTV Movie Awards dropped for the second year as the show once again offered a raw mix of A-list celebrities and X-rated humor.
The two-hour live telecast drew 4.5 million viewers on Sunday evening, down from 4.6 million last year, MTV said in a statement. Viewership peaked at 7.1 million in 2002 and subsequently went as low as 3.0 million in 2008.
F-bombs and naughty humor proliferated as the third "Twilight" movie took home the top awards, just as its predecessors did in previous years.
Presenter Justin Timberlake cupped the breasts of his "Friends With Benefits" co-star Mila Kunis, who responded by grabbing his crotch. "Twilight" hunk Robert Pattinson engaged in a lip-lock with co-star Taylor Lautner.
Host Jason Sudeikis directed a joke about oral sex to mortified teen actress Selena Gomez, while the daredevil stars of "Jackass" were part of a segment featuring homoerotic references to Donald Trump.
Even southern belle Reese Witherspoon got in on the potty-mouthed act as she accepted a lifetime achievement award.
LOS ANGELES (Reuters) -  (Reporting by Dean Goodman; Editing by Jill Serjeant)