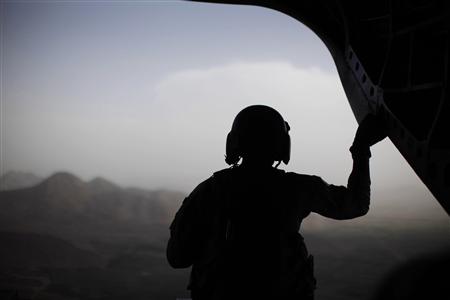 President
Barack Obama
said on Monday he will announce soon his decision on how many troops to withdraw from
Afghanistan
in July to start a gradual pullout from that country.Obama and Vice President
Joe Biden
met their senior national security aides for two hours to discuss policy toward
Afghanistan
and
Pakistan
in the wake of the May 2 killing of al Qaeda leader
Osama bin Laden
.
White House spokesman Jay Carney said planned troop withdrawals were not discussed, but that Obama expects to receive a recommendation from his military commanders on how many troops to withdraw starting next month.
This will be the start of a transition to Afghan security control scheduled to conclude in 2014.
Many Americans, weary of the war's cost in blood and treasure, have decided it is time to move on from the 10-year conflict in Afghanistan begun after the September 11, 2001, attacks.
Obama is under pressure to improve both the U.S. economy and the bottom line of the government's annual budget.
"By killing bin Laden, by blunting the Taliban, we have now accomplished a lot of what we set out to accomplish 10 years ago," Obama told Cleveland, Ohio, television station WEWS in an interview.
Obama may get the military's recommendation once Defense Secretary Robert Gates returns from a trip to the region.
Predicting "a summer of transition" in Afghanistan, Obama said it is for the Afghan people to take responsibility for their own security and cited the training American troops are providing them.
The United States has 100,000 troops in Afghanistan, a deployment that costs more than $110 billion a year.
Obama is to hold a video conference on Wednesday with Afghanistan President Hamid Karzai, who has been increasingly outraged at civilian casualties in the NATO-led battle against the Taliban in his country.
Karzai had warned NATO-led forces May 31 they were at risk of being seen as an occupying force rather than an ally after a spate of civilian casualties, and said he would take unspecified action if they continue.
Republican Senator John McCain told the Financial Times newspaper that he hopes Obama will withdraw no more than 3,000 troops from Afghanistan starting in July.
If Obama decides on a faster pullout as a consequence of the bin Laden killing, some experts believe he could withdraw 5,000, a full brigade combat team.
WASHINGTON (Reuters) – By Steve Holland(Additional reporting by Laura MacInnis and Alister Bull; Editing by Will Dunham and Bill Trott)