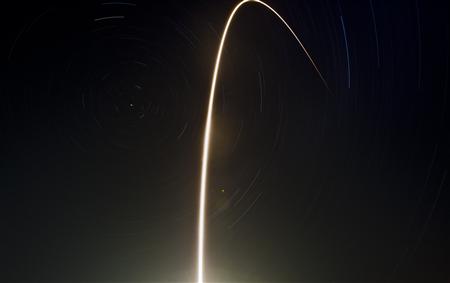 A Soyuz spacecraft blasted off for the
International Space Station
on Wednesday with a Russian, American and a Japanese astronaut on board.The cramped Russian craft is to deliver cosmonaut Sergei Volkov,
Japan
's Satoshi Furukawa and 53-year-old NASA astronaut
Michael Fossum
to the orbital station after a two-day voyage up from the Kazakh steppe.
Its booster rocket trailing a jet of flame in the night sky, the Soyuz TMA-02M lifted off from the Baikonur Cosmodrome on schedule at 2:12 a.m. on Wednesday (2000 GMT on Tuesday).
Officials at Russian Mission Control outside Moscow congratulated the crew over the scratchy radio when the craft shed its rocket stages and safely reached orbit minutes later.
"We're feeling good," Volkov reported back to Earth as the ship ascended, a small toy pig named Nyusha that his son gave him as a mascot dangling above the crewmen crouched in their white spacesuits. "Everything is in order on board."
Fossum, a veteran of two spaceflights, waved to the camera.
Furukawa, 47, was in orbit for the first time, while Volkov, 38, is following in the footsteps of his father Alexander, who spent more than a year in space under the flag of the Soviet Union.
The trio is to spend six months on the station, a stint that will include the docking of the U.S. space shuttle Atlantis, which is to launch on July 8 on NASA's last planned shuttle mission before the fleet is retired.
Volkov, Furukawa and Fossum will be greeted upon arrival — scheduled for 2022 GMT on Thursday — by NASA astronaut Ron Garan and Russians Andrey Borisenko and Alexander Samokutyayev, who have been aboard the station since April.
Volkov is to blog on the Russian space agency website from the station.
While Europe worries about a deadly E.coli outbreak blamed on raw vegetables, Volkov is to try growing cucumbers on the station and Furukawa tomatoes, they said at a pre-launch news conference, joking that they might make a salad.
The station, a $100 billion project of 16 nations, has been under construction about 220 miles above the earth since 1998. A football field-sized mix of mostly Russian and American-built modules, it can accommodate a crew of six.
But rides there are going to be harder to catch, and only Russia will be able to provide them.
With NASA mothballing its shuttle fleet, it will be at least four years before its astronauts can fly out of the United States again. Until new ships are ready, Russia will ferry crews to the station at a cost of more than $50 million per person.
BAIKONUR, Kazakhstan (Reuters) – By Shavkat Rakhmatullayev(Additional reporting by Dmitry Solovyov in Almaty; writing by Steve Gutterman and Alissa de Carbonnel; editing by Andrew Roche)