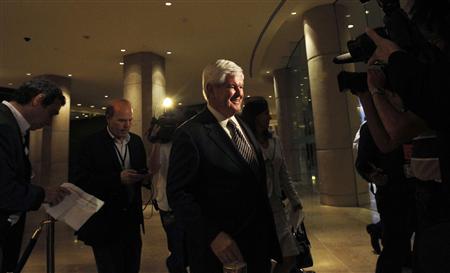 Republican
Newt Gingrich
restarted his troubled run for the U.S. presidency with an appeal on Sunday to Jewish voters in
California
after senior campaign staff abandoned him over differences on strategy.Four days after a staff exodus known as the "Newtiny," Gingrich told a gathering of Jewish Republicans he would continue to campaign for Americans who want change in
Washington
and the repeal of President
Barack Obama
's policies.
The loss of key advisors was the latest in a series of setbacks for Gingrich since he launched his bid in May for the Republican nomination to challenge Obama in 2012. But he was still able to poke some fun at his misfortune.
"As someone who has been in public life for nearly 40 years, I know full well the rigors of campaigning for public office," he said at a Republican Jewish Coalition event held at a Beverly Hills hotel.
"In fact, I have had some recent reminders."
Those reminders were the resignations Thursday of his spokesman and senior strategist. The leaders of Gingrich's operations in early voting states and his home state of Georgia also quit.
Gingrich, the former speaker of the U.S. House of Representatives, said Thursday his campaign would "begin anew" on Sunday in Los Angeles, a reliably Democratic city and he stressed on Sunday he would not quit despite an uphill battle.
"I will endure the challenges. I will carry the message of American renewal to every part of this great land, no matter what it takes," he said. "And with the help of every American who wants to change Washington, we will prevail."
Gingrich spoke at length on U.S. policy toward Israel and sharply criticized Obama's recent call that Israel's pre-1967 borders be used as a starting point for Israeli-Palestinian negotiations.
He received several standing ovations and urged the group to "never underestimate the hold that Israel has on the American heart."
Gingrich's campaign has had serious problems almost from the start. Days after announcing his candidacy, he came under intense fire from fellow conservatives for criticizing the Medicare reform plan proposed by Republican Paul Ryan, chairman of the House Budget Committee.
Gingrich apologized, but then came the disclosure that he had maintained about as much as $500,000 in debt to high-fashion jeweler Tiffany & Co from 2005 to 2006.
Further criticism arose when he abruptly left the campaign trail for a high-style Greek cruise with his third wife, Callista.
Gingrich will get his next chance to shore up his campaign at a nationally televised debate on Monday of seven Republican presidential hopefuls.

BEVERLY HILLS (Reuters) – By Mary Milliken(Editing by Paul Simao)