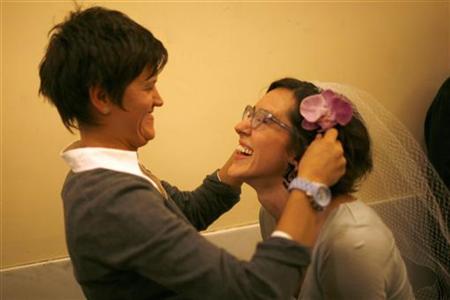 A U.S. judge's gay relationship is no basis for tossing out his decision overturning
California
's same-sex marriage ban, another federal judge ruled on Tuesday.Doing otherwise would send a message that minority judges could not rule in civil rights cases, ruled Chief U.S. District Judge
James Ware
, who upheld the decision to overturn
California
's gay marriage ban.
In pointed language, Ware slapped down the attempt to throw out his gay former colleague's decision as an attack on standards of judicial impartiality, saying it ignored the idea that protecting the rights of minorities benefits all.
ProtectMarriage.com, the anti-gay marriage group defending California's ban, will appeal Ware's ruling, said Charles Cooper, an attorney for the group.
U.S. District Judge Vaughn Walker in San Francisco last year struck down California's same-sex marriage ban, known as Proposition 8, and supporters of the ban now say his ruling was compromised and should be vacated.
The case was immediately appealed to the 9th U.S. Circuit Court of Appeals.
It could set national policy if it reaches the U.S. Supreme Court and is being watched throughout the nation, where same-sex marriage is legal in only a handful of states.
In a written ruling, Judge Ware said Walker's same-sex relationship was no reason to throw out his decision. Ware took over the case after Walker retired earlier this year.
Standards such as those advocated by the pro-ban attorneys would come dangerously close to forcing minority judges to excuse themselves from civil rights cases, wrote Ware, an African-American appointed by former President George H.W. Bush.
Shortly after Walker retired, he discussed his homosexuality in the press for the first time, saying he is in a 10-year relationship with a physician.
That led opponents of same-sex marriage to ask that Walker's ruling be vacated. Walker's relationship put him in the same shoes as the plaintiffs, and should have been disclosed when he was assigned to the case, their attorneys argued.
"This is a powerful ruling that makes clear that gay and lesbian judges are entitled to the same presumptions of fairness and impartiality as all other federal judges," said Theodore Boutrous, an attorney representing two same-sex couples seeking to overturn the California ban.
Cooper said ProtectMarriage.com would continue to "defend the will of the people of California to preserve marriage as the union of a man and a woman."
In his ruling, Ware shot down the argument that Walker's silence about his relationship could be taken as an implicit indication of his interest, saying that judges were presumed to be impartial.
"The presumption that Judge Walker, by virtue of being in a same-sex relationship, had a desire to be married that rendered him incapable of making an impartial decision," Ware wrote, "is as warrantless as the presumption that a female judge is incapable of being impartial in a case in which women seek legal relief."
The 9th Circuit court is still considering the constitutional issues surrounding gay marriage and has asked the California Supreme Court to weigh in on one point of state law.
The case in U.S. District Court, Northern District of California is Perry v. Schwarzenegger, 09-2292.

SAN FRANCISCO (Reuters) – By Dan Levine and Peter Henderson(Reporting by Dan Levine and Peter Henderson; Editing by Eric Walsh)