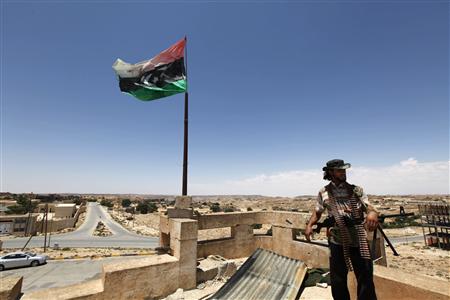 Libyan leader
Muammar Gaddafi
's forces shelled rebel positions in the Western Mountains on Wednesday, insurgents said, after rebels edged closer to the capital on three fronts.A rebel spokesman, called Kalefa, in the town of
Nalut
said there were no casualties from the shelling.
"Gaddafi's forces bombarded Nalut … Over 20 Grad rockets landed in the town. They bombarded from their positions … around 20 km (12 miles) east of Nalut," he said, adding that they had also shelled the Wazin-Dehiba Tunisia border crossing.
The rebels have made advances in key areas in recent days but they have a way to go if they are to successfully march on Gaddafi's well-defended territory.
Fighting was subdued on Wednesday as rebels held positions toward Zlitan, east of Tripoli, and on other fronts.
NATO war planes bombed Tripoli on Tuesday night, causing loud explosions that filled the sky with plumes of smoke, but there were no further reports of bombing on Wednesday.
On Tuesday, the rebels tried to advance in the east, setting their sights on the oil town of Brega to extend their control over the region, epicenter of the four-month rebellion against Gaddafi's four-decade rule.
In a sign that Gaddafi's forces may be getting stretched, the rebels seized the town of Kikla, 150 km (90 miles) southwest of Tripoli. They also pushed several kilometers west of their Misrata stronghold to the outskirts of government-held Zlitan.
A Reuters correspondent with the rebels said there were no further advances in the region on Wednesday.
NATO Secretary General Anders Fogh Rasmussen will meet British Prime Minister David Cameron in London to discuss the nearly three-month-old operation, which has so far failed to oust Gaddafi or enable the rebels to capture Tripoli.
NATO defense chiefs met in Belgrade to discuss the mission on Tuesday. Ties are straining in the alliance, with some reluctant to commit additional resources needed to sustain the bombing mission in the coming months.
A senior NATO commander appeared to raise questions about the alliance's ability to handle a long-term intervention.
"We are conducting this operation with all the means we have … If the operation were to last long, of course, the resource issue will become critical," General Stephane Abrial said.
Saad Djebbar, a former legal adviser to the Libyan government, told Reuters Gaddafi would continue to play for time and seek to demoralize and splinter the coalition.
"Gaddafi's mentality is that as long as my enemies haven't triumphed, I haven't lost," he said.
"The U.S. stance, that the major outside role should be played by the Europeans and Arabs, sends the wrong signal. Gaddafi will be very encouraged by it. His line is 'We are steadfast'. We can wait it out.'"
He said Gaddafi would be active in supplying Tripoli with food and fuel during Ramadan in August, to ward off revolution.
"The concerns being raised in the British parliament and the U.S. Congress, including questions like 'why are we spending so much?', will be of comfort to him."
NATO spokesman Major General Nick Pope said air strikes had destroyed three ammunition bunkers in Waddan and that NATO ships were patrolling the Libyan cost to enforce the arms embargo.
AUSTRIA OVERTURE TO REBELS
Austrian Foreign Minister Michael Spindelegger will on Sunday visit the rebels in Benghazi to offer "concrete support," his office said, the latest in a string of such visitors.
Austria's oil and gas firm OMV used to get 10 percent of its oil, about 33,000 barrels per day, from Libya but says it has not had contact from either side since the conflict.
The rebel push to Kikla followed weeks of deadlock between the rag-tag rebel army and government forces, though air strikes by NATO have taken their toll on Gaddafi's better-equipped troops.
The rebels said a NATO leaflet warning of helicopter strikes had prevented them from pushing toward the town of Zlitan on Tuesday, and had prompted some rebels to retreat from their newly-captured positions about 10 km (6 miles) outside the city toward their base in Misrata, east of Tripoli.
A NATO official said the alliance dropped the leaflets west of Misrata, and closer to Zlitan.
A Reuters correspondent in Misrata said there were no further advances toward Zlitan on Wednesday.
A rebel leader in the Mediterranean port city said the oil refinery there was still out of action after Gaddafi's forces shelled it on Monday, but petrol stations were working.
"The oil refinery … will resume again soon," said Khalifa Zuwawi, chairman of the transitional council in Misrata.
Even without the threat of NATO attack, the rebels said they would not attack Zlitan, citing tribal sensitivities. Instead they would wait for the local inhabitants to rise up.
A NATO official said warplanes had hit an ammunition store at Waddan, not far from Al Jufrah, after Libyan television said Al Jufrah, in central Libya, had been bombed for a second day.

MISRATA/KIKLA, Libya (Reuters) – By Matt Robinson and Youssef Boudlal(Additional reporting by Nick Carey in Tripoli, William Mcclean in London, Sylvia Westall in Vienna, Maria Golovnina in Benghazi, Sami Aboudi in Cairo, Souhail Karam in Rabat and Hamid Ould Ahmed in Algers; writing by Tim Cocks and John Irish; editing by Philippa Fletcher)