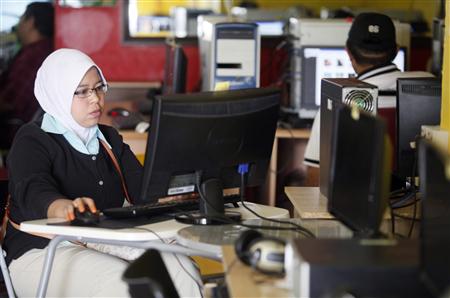 Malaysia
stepped up monitoring of government websites on Wednesday to stop a threatened hacking attack by Internet vigilante group
Anonymous
over government acts of censorship, the police chief said.The hacker group said it would target the
Malaysian government
's online portal from Wednesday 1930 GMT to teach the country a lesson for censoring whistle-blower site WikiLeaks in an attack codenamed "Operation
Malaysia
."
The Southeast Asian country could be the latest in a cyber-war waged by the activists, who gained prominence when they temporarily crippled the websites of MasterCard and Paypal that cut off financial services to WikiLeaks.
A spate of cyber attacks on multinational firms and institutions, from Citigroup to the International Monetary Fund, has raised concerns that governments and the private sector may struggle to defend against hackers.
"We have received word of this threat. There are many agencies involved in this and we will get to the bottom of this," Malaysian police chief Ismail Omar told Reuters.
"Investigation needs to be done and we need to protect our systems at the same time."
Anonymous is a grouping of global activists lobbying for Internet freedom who frequently try to shut down the websites of businesses and other organizations that they oppose.
Members cripple websites by overwhelming them with traffic in what are commonly known as "denial of service" attacks. The hacking group has also brought down websites in Syria, Tunisia, Egypt and India for political reasons.
Cyber security experts said the hackers may attempt to deface the Malaysian government portal or try and bring it down. At 0319 GMT, the website was still online.
"The worst that could happen is hackers take sensitive financial data but most Malaysian government websites will not contain such sensitive information unless its the e-payment website," a cyber security official said.
VIBRANT CULTURE
Malaysia has a vibrant Internet culture that has gained a mass following in a nation where the mainstream media is tightly controlled. The government has in the past used sedition law against bloggers, often detaining suspects for long periods without trial.
The country's industry regulator Malaysian Communication and Multimedia Commission last week banned 10 file-sharing sites and ordered Internet service providers like Telekom Malaysia and Maxis to block access, prompting the threat from the hacking group.
In a posting on pastebin.com, Anonymous said Malaysia's censorship of films and television shows and its blocking of file-sharing websites amounted to a denial of human rights.
"The Internet is here for freedom, without fear of government interference," the group said. "We fear that if you make further decisions to take away human freedom. We are obligated to act fast and have no mercy."
Malaysia's Information Minister Rais Yatim said Anonymous had "misunderstood realities of the day" and that the country was only trying to censor crimes committed in cyberspace.
Malaysia's websites have frequently been attacked by Indonesian hackers on a string of spats, including migrant worker abuse, territorial disputes and a football match last year between the two countries.
In 2009, Malaysia planned to set up an Internet filter, similar to China's Green Dam project. But like the project in China, authorities quickly backed down following an outcry from the opposition and foreign investors.
Malaysia with 28 million people, plans to boost its broadband internet penetration to 50 percent by end 2010 and draw in foreign investment
It has attracted foreign technology companies like Microsoft Corp and Cisco Systems to invest on the condition the government would not impose Internet controls.
KUALA LUMPUR, Jun (Reuters) -  By Niluksi Koswanage(Reporting by Niluksi Koswanage; Editing by Ron Popeski and Sanjeev Miglani)