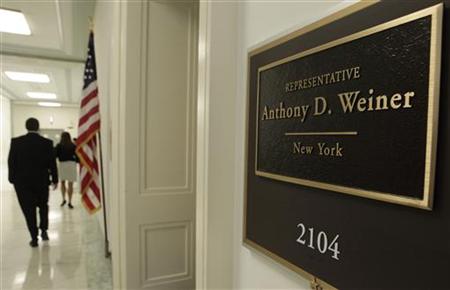 Representative Anthony Weiner, who has admitted sending lewd photos of himself over the Internet to a number of women, has told House Democratic leader Nancy Pelosi he will resign from Congress, a party source said on Thursday.
The New York Democrat would become the third member of the Congress this year to step down because of a sex scandal. Weiner has scheduled a 2 p.m. EDT news conference in New York, NBC News reported.
Under pressure from President Barack Obama and both major political parties, Weiner had previously insisted on staying in his job, announcing instead that would seek treatment and take a "short leave" of absence from the House.
But Weiner, 46, reached the decision to resign after speaking with his wife, Huma Abedin, 35, an aide to Secretary of State Hillary Clinton who returned from an overseas trip on Tuesday, The New York Times reported without citing sources.
He told Pelosi on Wednesday night that he intends to resign, a Democratic source told Reuters.
"He told Pelosi last night," the source said.
Pelosi is expected to be asked about Weiner on Thursday at her regular meeting with reporters.
Republicans and top Democrats had called for him to resign, saying the scandal had become a distraction on Capitol Hill.
Democrats feared that Weiner had become a political liability to their efforts to win back the House from Republicans in next year's elections.
Obama ramped up pressure on Weiner to resign on June 14, telling NBC News, "He's embarrassed his wife and his family …. If it was me, I would resign."
WASHINGTON/NEW YORK (Reuters) -  (Reporting by Richard Cowan, Thomas Ferraro and Daniel Trotta; Editing by Eric Beech)