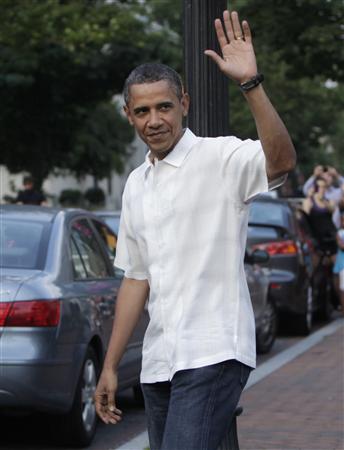 President
Barack Obama
reassured Jewish donors on Monday he strongly supports
Israel
, stressing close ties between the
United States
and the Jewish state, but also emphasizing that changes in the
Middle East
will require a fresh look at the region."Both the
United States
and
Israel
are going to have to look at this new landscape with fresh eyes. It's not going to be sufficient for us just to keep on doing the same things," Obama said at the first of two big-ticket fund-raisers where he was speaking on Monday evening.
He addressed the crowd of about 80 people a month after a speech on the Middle East that exposed a rift between the United States and Israel. At Monday's dinner, hosted by Americans in Support of a Strong U.S.-Israel Relationship, he said his administration had done more than any for 25 years to support Israel's security.
"The most important message I have for all of you here tonight is that, even as we try to manage what is going to be a very difficult and challenging situation over the next 12 months, the next 24 months, the next decade, that one inviolable principle will be that the United States and Israel will always be stalwart allies and friends," Obama said to applause.
Although some conservatives have been attacking Obama's policies toward Israel, members of the audience greeted Obama with applause. They had paid $25,000 to $35,800 each to attend what a Democratic National Committee official said was a sold-out event.
"That bond isn't breakable and … Israel's security will always be at the top tier of considerations in terms of how America manages its foreign policy," Obama said. "… Israel is our closest ally and friend. It is a robust democracy. It shares our values and it shares our principles."
Obama spoke for about seven minutes before beginning what he said he expected to be a "substantive" question and answer session with the group. Reporters were ushered from the hotel meeting room before the questioning began.
Obama said in a speech on May 20 that long-stalled peace talks between Israel and the Palestinians should start on the basis of Israel's 1967 borders, an assertion that infuriated Israeli leaders, exposed a rift between the two allies and raised further doubts about peace prospects.
He gave a speech to the American Israel Public Affairs Committee, Washington's most powerful pro-Israel lobbying group three days later that seemed to soothe some tensions, but also served as a reminder that his peace formula could cost support among Jewish and pro-Israel voters and donors as he runs for re-election in 2012.
More than two years into his presidency, Obama has little to show for his effort to revive direct negotiations between the two sides apart from a few weeks when they resumed in September before unraveling.
WASHINGTON (Reuters) – By Patricia Zengerle(Editing by Todd Eastham)