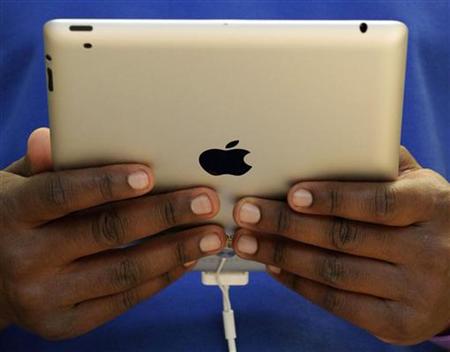 Apple Inc may face hurdles in stopping online retailer Amazon.com Inc from using Apple's App Store name through a trademark lawsuit, a U.S. judge indicated at a hearing on Wednesday.
Apple, the maker of best-selling iPhones and iPad tablets, filed a lawsuit saying that Amazon has improperly used Apple's App Store name to solicit software developers throughout the United States.
At the hearing in an Oakland federal court on Wednesday, District Judge Phyllis Hamilton said she would reread some of the supporting papers in the case, according to an individual who was at the hearing.
However, Hamilton said Apple had a "stumbling block" in proving that anyone would confuse Apple's App Store for Amazon's Appstore for Android, the individual said.
Hamilton did not make a final ruling at the hearing, court records show.
Apple declined to comment. Amazon did not immediately respond to requests for comment.
Apple claims in the lawsuit that Amazon is unlawfully using the App Store name in connection with what Amazon calls the "Amazon Appstore Developer Portal," along with other instances like advertisements for a version of Angry Birds, the popular mobile game.
Apple has also asserted a claim of unfair competition, and is seeking to enjoin Amazon from using the App Store mark.
The case in U.S. District Court, Northern District of California is Apple Inc v. Amazon.com Inc, 11-1327.
SAN FRANCISCO (Reuters) -  (Reporting by Dan Levine and Poornima Gupta; Editing by Tim Dobbyn)