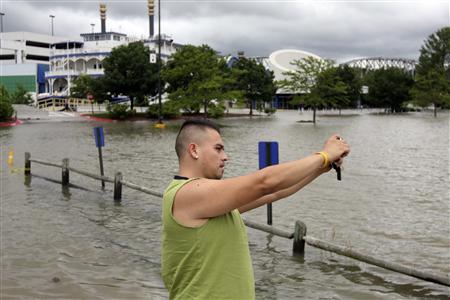 The rapidly rising Souris River poured over flood defenses in
Minot
,
North Dakota
on Wednesday, overwhelming efforts to delay the deluge and forcing the immediate evacuation of thousands of homes.City officials had ordered residents to vacate about a quarter of
North Dakota
's fourth-largest city, but the massive water flows from heavy rains in
Canada
hastened the evacuation by about five hours as defenses began to fail.
Up to 12,000 residents live in areas expected to be swamped by floodwaters projected to smash a 130-year-old record by up to 5 feet. Emergency sirens sounded about 1 p.m. indicating that water was flowing over levees in flood-threatened areas.
"You hate to admit defeat at any time, but as far as our permanent dike, it can't handle the kind of water that we are going to see," Minot Mayor Curt Zimbelman told reporters at an evening news conference.
Zimbelman said the evacuation has been orderly, no injuries have been reported and no more evacuations are anticipated.
The Souris River surpassed on Wednesday its peak level from a historic 1969 flood that local residents had used as a benchmark. It is projected to beat that mark by about 7 feet,
Officials had warned residents of the possible earlier evacuation and had urged them to map out a direct route to higher ground if the warning sirens sounded.
Heavy rains over the past six weeks have swelled Canadian reservoirs in the Souris River basin, forcing unprecedented water releases. In turn, U.S. officials must release water from the Lake Darling Dam above Minot at a rate more than double what the recently fortified protections can bear.
"We have raised them three or four times, but there is just not enough time to raise them any higher," Shannon Bauer, a U.S. Army Corps of Engineers spokeswoman, said in a telephone interview. "Also, they are saturated. If you add more material to them they won't last."
As many as 5,000 buildings in Minot are threatened by the flooding that could keep the area inundated for two weeks or more, officials said.
A dozen National Guard teams were going house-to-house to make sure people have evacuated and will provide security for the area, National Guard General David Sprynczynatyk said.
A National Weather Service flash flood warning Wednesday extended from Burlington, through Minot and Logan and Sawyer.
The massive flooding on the Souris River, which flows into the Red River basin, was the latest problem as flooding threatens communities from Montana through Missouri.
The swelling Missouri River threatens the North Dakota capital of Bismarck, the South Dakota capital of Pierre and other communities for hundreds of miles downstream.
'DRAMATIC' SURGE COMING
City, state and federal officials scanned the Minot area by helicopter Wednesday, finding four or five neighborhoods where water was slowly rolling over levees, North Dakota Governor Jack Dalrymple told reporters.
The rolling water begins to erode flood protections slowly at first and then accelerates, a process that will speed up as higher water releases reach Minot, officials said.
Officials were timing the sharpest increases in release rates so the water reaches Minot during the daylight and the biggest surge was expected within days.
"It will be dramatic and I think some people will actually no doubt feel alarmed at the speed with which the water comes up in Minot," Dalrymple said. "In two days time it will be a very, very rapid rise."
The Corps has increased and accelerated planned water releases from the Lake Darling Dam. It was releasing 12,000 cubic feet per second Wednesday afternoon and expects to increase that to 18,000 on Thursday and 22,000 on Friday.
The peak flows at the Broadway Bridge in Minot would reach 24,000 cubic feet per second on Sunday, making water levels there some 5 feet above the record set in 1881. Flood defenses were rated to about 9,500 cubic feet per second.
The Corps expects peak releases to hold for up to six days before a gradual reduction of releases over possibly two weeks, but cannot predict how quickly water will recede from flooded areas, Lieutenant Colonel Kendall Bergmann told reporters.
Amtrak suspended Empire Builder service Tuesday in part of Minnesota, North Dakota and eastern Montana due to flooding.
Heavy rains added to woes across the Missouri River basin from Montana through Missouri earlier this week and forced federal officials to adjust planned water release rates from some of its six reservoirs on the Upper Missouri River.
Rates already are roughly double the previous records and the Corps plans to increase the expected maximum at the key Gavins Point Dam on the South Dakota–Nebraska border.
The Missouri River runs freely from Gavins Point for more than 800 miles to the Mississippi River near St. Louis, making the releases from the dam a focus for downstream residents.
Gavins Point water releases are scheduled to reach 160,000 cubic feet per second on Thursday. It plans to hold peak releases from the dams at least through mid-August.
Levee failures have forced mandatory evacuations of several towns near the Missouri River and the heavy rains and increased releases added to local concerns.
Residents in the village of Bigelow on Wednesday were among the latest mandatory evacuations in Holt County, Missouri, due to Missouri River levee failures or expected failures.
The village of 30 people was being evacuated while roads are still passable, following by one day the evacuation of the 300 residents of Craig, Missouri, due to levee breaches.
"There are two levees today that we fully expect could breach at any time," said Kathy Kunkel, clerk of Holt County who is helping oversee emergency operations.
MINNEAPOLIS (Reuters) – By David Bailey(Additional reporting by Kevin Murphy in Kansas City; Editing by Greg McCune)