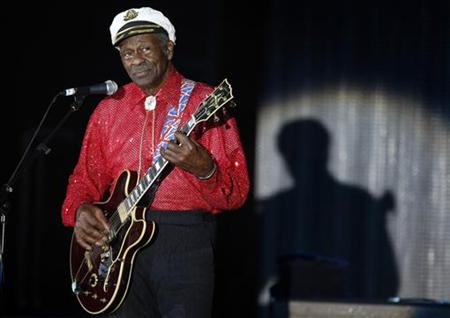 An 86-year-old former city official said on Thursday she and dozens of supporters would try to delay installation of a statue of
rock
pioneer
Chuck Berry
because he "is a felon and not a friend of women."An eight-foot statue of the 84-year-old
St. Louis
native and member of the
Rock
'n' Roll Hall of Fame is ready to be erected in a public plaza near the suburban
University City club
where Berry still performs every month to sold out crowds. Installation is scheduled for next week unless it is stopped. 
Elsie Glickert, who has lived in the area all her life and served 11 years on the University City council, said she would ask the council to delay the installation "until it can be reviewed. I'm dumbfounded how it got this far."
The city confirmed the issue was placed on the agenda for Monday's meeting, but the city manager Lehman Walker has said the statue was approved properly and plans for the installation and a July 29 dedication will go ahead.
Citing Berry's conviction in 1962 of violating the Mann Act, transporting a woman across state lines for immoral purposes, Glickert said, "This man is a felon and not a friend of women. It is a misuse of tax dollars to honor him on public property."
At a show in Texas in 1959, Berry met a young Native American woman who came to work at his St. Louis club, was fired and then arrested on a prostitution charge. That led to Berry being convicted for violating the Mann Act, transporting a woman across state lines for immoral purposes. He began a three-year prison sentence in 1962 and penned several hits while incarcerated, including "No Particular Place to Go."
Berry had more trouble in 1979 when he was convicted of tax evasion and had been convicted of armed robbery as a teenager.
The statue was promoted by club owner Joe Edwards, who helped raise over $100,000 to pay for the statue and other plaza improvements. Berry is scheduled to speak at the July dedication.
The new plaza will also feature illuminated walls with laser-engraved musical notes of "Johnny B. Goode," Berry's signature hit. The concrete curbs along the street near the plaza will be etched with the lyrics of Berry songs.
Glickert earlier this month presented the city petitions against the statue with over 100 signatures.
Berry performs at Blueberry Hill, Edwards' club, every month. He collapsed during a show in Chicago on New Year's Day but recovered in time to play his next show in St. Louis.
ST. LOUIS (Reuters) – By Bruce Olson(Reporting and writing by Bruce Olson; Editing by Mary Wisniewski and Greg McCune)