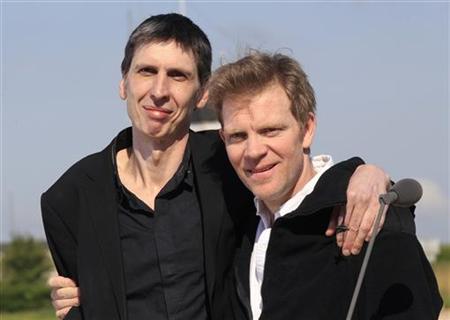 Two French TV journalists held hostage in
Afghanistan
by the
Taliban
for 18 months landed back in
France
on Thursday, pale and gaunt but visibly elated as they were met by the French president and their families.
France
3 television reporter Herve Ghesquiere and cameraman Stephane Taponier, whose long ordeal had become a national cause among the French public, were freed on Wednesday after a sudden breakthrough in negotiations.
They had been locked up 24 hours a day with just two short toilet breaks morning and evening. Barred or covered windows meant they saw little sunlight.
"We had to be very solid, very strong. We had to really structure our time, not get bogged down in boredom or despair," Ghesquiere told reporters at a military airport near Paris.
"One day, Stephane said that the big difference between us and regular prisoners is that a prisoner can count down the days of his sentence, whereas we could count them but we didn't know when it was going to end," Ghesquiere said.
"They were very long days," Taponier said. "But we knew the most important thing was to keep up our morale."
The Afghan Taliban, which has often exaggerated claims over attacks on Afghan or foreign targets, said the pair were freed in exchange for the release of imprisoned Taliban leaders.
"After several failed operations, designed for the release of the journalists, the French authorities had to accept our demands at the end and several of our leaders were released," a spokesman, Zabihullah Mujahid, said in an emailed statement.
Seized around 60 km (40 miles) outside Kabul on December 30, 2009, Ghesquiere and Taponier's captivity was the longest of any French hostage since the Lebanese hostage crisis in the 1980s.
France has denied any ransom was paid to secure the release of the two men, and their Afghan interpreter Reza Din. Foreign Minister Alain Juppe said revealing details of the negotiations could damage efforts to free other French hostages in Africa.
President Nicolas Sarkozy could get a lift to his low popularity ratings from the hostages' release, 10 months before a presidential election, but he and his wife Carla Bruni greeted the pair away from TV cameras.
Sarkozy had telephoned Ghesquiere's girlfriend to tell her of his release, catching her while she was at a rally to mark the 18-month anniversary of his capture.
Ghesquiere told a gathering of France 3 staff that he and Taponier had been ambushed shortly after leaving a checkpoint they believed had been infiltrated by a Taliban informant.
The pair were well treated by their captors, however, and never beaten or tied up. Their meals consisted of small servings of local food.
"We didn't have much to eat and it was always the same thing," Ghesquiere said. "When you have nothing to do, you really live for eating. It was really tough. Food seems unimportant but it's actually essential.
France, which has lost 63 soldiers out of its 2,000-strong troop contingent in Afghanistan, said this month it would follow the United States in bringing home its soldiers early.
France still has eight nationals held overseas, three in Yemen, four in the Sahel region and one in Somalia.
PARIS (Reuters) – By Thierry Chiarello(Additional reporting by Hamid Shalizi in Kabul; Writing by Catherine Bremer)